Occasional Sacramento water heater repair isn't uncommon. After all, they're like any other machine that requires routine maintenance from time to time. Express Sewer & Drain is committed to reaching out our public and helping everyone save a little time and money. You can do both by replacing your hot water heater's thermostat. It's simple, however, if you aren't comfortable working with electricity, you might want to call us for help. As always, use caution. So if you're not getting enough hot water, you might be able to fix it yourself. Here's a handy how-to guide to follow as you make the water heater repair.
Quick tip: Most hot water heaters have two thermostats. You'll find them at the top and bottom of the tank. Refer to your manual (if you have it). If you don't, you can probably download one from the manufacturer's website. Simply search for your brand, model and enter "owners manual" at the end.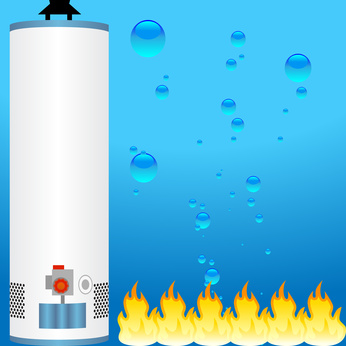 Steps to Water Heater Repair In Sacramento – Thermostat Replacement
First, you'll have to test the thermostats. You'll need either a multimeter or voltage/ohm meter. These will determine whether your thermostat is actually broken. Again, if you have any questions about using either of these tools, give us a ring.
If you have a broken water heater thermostat and want to replace it yourself, you'll have to buy a new one. While a few thermostats are interchangeable, you will want to take your broken one to the hardware store in order to be certain you get a compatible thermostat. Generally, they're reasonably priced. Water heater repair can be fast and pretty easy. Follow these steps.
Kill the power – You should find the power to your water heater in your breaker box. Turn it off. If you can't isolate which switch controls electricity for your water heater, just hit the main. Always better to be safe than sorry. This step is crucial. Contact Express directly with any questions you have about Sacramento hot water heater repair.
Opening the tank – This isn't a big deal at all. Using a screwdriver, remove the metal cover on the outside of your tank. You'll see some insulation. Unwrap it and then remove the plastic cover that houses the thermostat.
Remove the thermostat - The thermostat is kept in place by a spring bracket. It should be clear how to remove it. It varies from model to model, but you most likely won't require any special tool. Wiring for the majority of water heater thermostats is straight-forward, but you might want to use colored tapes or label them in order to ensure that you wire your thermostat properly. Hot water heater repair is easy, but just remember to pay attention as you go along. If you aren't experienced with wiring, take a picture of it before you uninstall the thermostat.
Thermostat installation – This is pretty easy, too. Most hot water heater repairs are. Reattach the thermostat to the bracket on the tank. Rewire it. Make sure you set the thermostat to the temperature you prefer (around 120 °F is what we usually see here in Sacramento), then just work backwards from step 2. Replace the cover, the insulation and the metal covers of the water tank.
Sacramento Water Heater Repair Made Easy!
If water heater repair isn't your thing, or you just don't have to time to do it, call the Sacramento hot water heater repair pros at Express.
Topics: Water Heater Repair, Replacement