You Select It, Plumbers in Sacramento, Express Sewer and Drain Can Install It
There are many things that you must consider when choosing a kitchen sink. Let's face it: things have changed, and this is definitely not your mother's kitchen. Size, type, and installation all must be taken into consideration when selecting the perfect sink for your kitchen. And once you do make a choice? Top quality plumbers in Sacramento, Express Sewer and Drain will promptly be at your door to install it.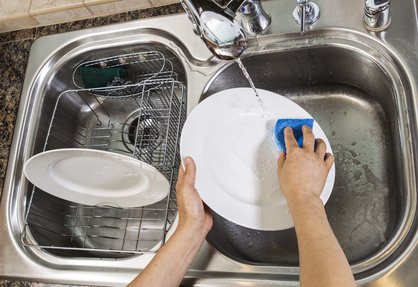 Size Does Matter When It Comes to a Sink
The first determinant is the size of the sink. The majority of current kitchen sink models are available in between 22 to 30 inches in width per bowl and 8 inches deep. If you prefer a larger sink, you can purchase bowls that are 10 inches deep. Plumbers in Sacramento, Express Sewer and Drain suggest thinking of what you will mainly be using the sink for to help make your decision.
A traditional kitchen sink is comprised of two bowls. There are currently a wider variety of bowls available for your sink, however. You can now buy single bowls, one and a half bowls, double and even triple bowls. When choosing the type of sink bowl, you need to consider the kind of activities you will be performing in the kitchen, and how much room you will need.
For those with limited space in the kitchen, single bowl sinks are perfect. Double bowls are great for those who do a small amount of cooking and preparation work. When there is more than one cook in the kitchen, and a lot of cooking is performed, a triple bowl sink is the best choice.
Whatever choice you make, professional and affordable plumbers in Sacramento, Express Sewer and Drain can execute the installation process. With an outstanding, dedicated team of workers, and unbeatable prices, you can't go wrong with Express Sewer!
Choosing the Most Preferable Type and Installation for Your Kitchen
When selecting a sink for your kitchen, you must also consider the type and installation. This is an extremely important decision because certain types of sinks don't fit with specific types of counter tops, and some sinks require special installation by a plumber. Sacramento residents should consult with the most innovative plumbing service in town, Express Sewer and Drain before making their final decision. Express can provide customers with the advanced knowledge that they require to choose the best type of sink for their kitchen.
Top-mount sinks have easy installation, and are reasonably inexpensive. The only negative is that because the sink is on top of the counter, dirt can get under the rim causing bacteria growth.
Difficult to install and expensive, under-mount sinks do supply a more seamless appearance than top-mount sinks. This is because they are installed underneath the counter top. Under-mount sinks are also much easier to clean.
Farmhouse or apron front sinks are composed of one large bowl with a front panel. These types of sinks are typically installed in country-style or cabin kitchens.
Ready to install your perfect kitchen sink? Then contact the fully-licensed and insured plumbers in Sacramento, Express Sewer and Drain. The expertise of our staff leads to unparalleled workmanship time and time again. With free estimates and flat rate pricing, Express Sewer and Drain is the only way to go!
Topics: Home Plumbing Tips