If you are a sewer contractor and you have recently landed a big contract for a municipal, county or state sewer lining project, congratulations! But do you have the equipment or are you spread too thin to cover the job and turn it around on or ahead of time? Let us just say:
Express Sewer & Drain is an asset to sewer contractors who have large contracts to complete!
Why is Express such a great partner for contracts for pipe lining in Sacramento? Well, besides the fact that we have the best team of CIPP experts on one team, we also have an outstanding tool box. In it, you'll find we have state-of-the-art equipment that will make your job easier. And make landing that next contract, and the next one after that, and the next one after that….easier, too! How does that sound?
In an earlier post, we talked a bit about our impressive fleet of CUES sewer TV trucks. Yep – we are extremely proud of those and we know that contractors relish the opportunity to use them. But we also have Vac-Con Equipment that will save your customers money. So let's take a look at why Vac-Con is perfect for pipe lining in Sacramento, or pipeline cleaning.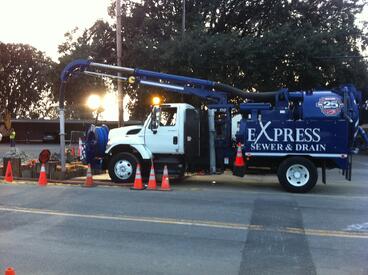 The Advantage Of Vac-Con Equipment – Flexibility For Large Trenchless Solutions
As you know, there are times when you can impress cities, counties and states by informing them that they don't have to perform an all-out manhole-to-manhole pipe lining rehab. Sometimes an industrial cleaning is the ticket. Saving a city like Sacramento on pipe lining is sure to bring you repeat business. Here's how Vac-Con equipment can help you secure future contracts:
Vac-Con designs every sewer cleaning machine with the operator in mind. With all machine functions handled from a single operator's station. These cutting-edge machines user friendly and a boon to contractors.
Vac-Con trucks never sacrifice safety, so contractors never have to worry about on-site accidents due to poorly designed equipment. Vac-Con features the industry's best safety hardware.
Vac-Con performance is second-to-none. Powerful, precise, our Vac-Con equipment features a 3-stage centrifugal compressor, 27" Corten steel fans, 2-engine design and Hydrostatic Blower drive.
Ideal for removing stones, bottles, cans, grease, sludge, and other debris from sanitary sewer and/or storm drain lines by the flushing action of high-pressure water. Again, you can really impress the city sewer and water department by saving them money on trenchless pipe lining in Sacramento.
When Sewer Cleaning Isn't Enough, Rely On Express For Expert Pipe Lining In Sacramento
Not only do we have the greatest heavy machinery like Vac-Con and CUES CCTV Vans, we also exclusively use pipe lining products by Perma-Liner like Top Gun Manhole-To-Manhole technology, Ditch Witch directional boring and other industry-leading products.
If you need to sub-contract a major job and be sure that it's done with precision and on time, then call Express! We perform top notch Sacramento pipe lining, industrial sewer clean up and just about any other heavy duty municipal, county and state sewer rehab jobs imaginable.
Topics: Sewer Repairs, Cleaning, Video Inspection, Trenchless Technology, Pipe Lining, Relined, Inspection