One of the great advantages of opting for trenchless sewer line replacement is its versatility. There are so many applications, different circumstances that we use trenchless technologies for we hardly have time for them all in one post. However, we can go over a few of the products we use most often to give you a better idea of just how versatile trenchless tech really is. Having worked in the plumbing industry for years, we at Express have seen a lot of trends come and go, but that's not the case with trenchless. It just keeps growing because it is the most forward-thinking, advanced technology around for a multitude of plumbing issues. From home laterals to entire municipal infrastructures, there exists a trenchless product that's perfectly suited to any given pipe repair situation. Interested? Well, we get pretty excited about this stuff. And you should too! After all, it's the most affordable and most durable plumbing and pipe repair option around.
Lateral Pipe Lining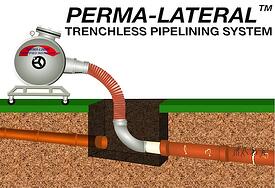 If you check out our last post, then you know a little more about lateral lining. If you didn't, we'll get you up to speed really quickly. Your lateral is the main pipe that runs from the building you're in to the street where it joins the municipal pipes. Often, the lateral wears out due to age, root infiltration or any other number of issues. Lateral lining is an excellent choice for rehabilitating your lateral piping because you never have to dig up your landscaping or paved areas to access the pipes. We do that through the sewer cleanout and reline the pipes underneath the ground, from the inside. Brilliant, eh? We think so. Oh – and we can do it in a matter of hours. Not days! And it's durable, guaranteed for over 50 years.
Manhole To Manhole Lining
Manhole to manhole lining is for city or municipal sewer systems (large diameter pipes, typically 8" diameter and up). Our manhole to manhole lining system gives contractors the flexibility and top-shelf performance they demand. And we'd like all Sacramento plumbing contractors to know that we're available and ready to assist you when you land your next big municipal or country contract. You can learn more about our manhole to manhole cured-in-place lining system here.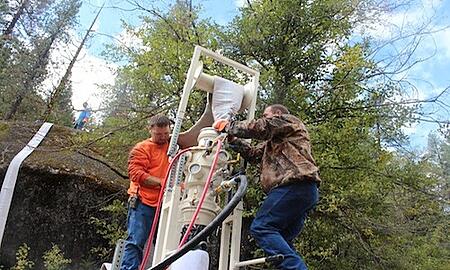 Sectional Point Repairs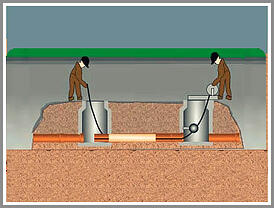 Sectional point repairs are a fantastic way to save lots of cash. Often there is no need to line the entire section of pipe, when only a leaking or broken joint need to be fixed. This repair method is typically used in municipal sewers but can also be done in smaller diameter pipe such as 3"-6" pipes. The real advantage with point repairs is that you can repair only the section of pipe that needs it, whether that is 6 inches long or 8 feet long. And, if you have an efficient crew like ours putting them in, it's not uncommon to have 3 to 7 repairs done in one day!
Pipe Bursting
Pipe bursting is a last resort, just before excavation is required. If there is extensive damage to an old or damaged sewer pipeline, then pipe bursting might be an reasonable option. It's like lining, but instead of lining the existing pipe, a bursting head is fed through the pipe where it busts it up and lays a brand new line in its path. It main advantage over lining is that it can handle the really bad pipe and conditions that lining is not suitable for.

Directional Boring
Directional boring is a similar method of trenchless sewer line replacement to pipe bursting. In this case, we use Ditch Witch directional boring equipment to "drag" a new sewer line in place where there was never one there before. Don't worry! Like all trenchless methods of sewer replacement, this method is also non-destructive. This method is mainly used to tunnel under existing roads and structures. Equipment advances allow us to tackle even the most complex situations with ease. And contractors, should you need to services of a crew with years of Ditch Witch directional boring expertise, then look no further than Express.
Contact Us
Would you like more information about our trenchless methods or a free consultation? Are you a contractor looking to subcrontract your lining or bursting? Whatever the problem is, chances are we have your solution. Call us.
Topics: Pipe Bursting, Sectional Point Repair, Plumbing in Sacramento, Trenchless Technology, Pipe Lining