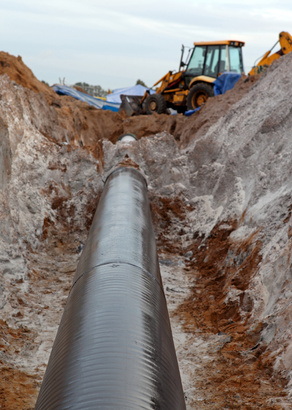 When a sewer line breaks, it is never a happy event. It is quite the opposite: dirty, expensive, and a complicated process. But there is good news: it is no longer a complicated process! Here at Express Sewer & Drain, we specialize in trenchless repairs. Trenchless repairs are, at its most basic definition, repairs to sewage and drain lines that do not require extensive digging around the complete area of the pipe, unlike the mess in the picture to the right. This comes with many benefits to the owners of the pipe or those who live in the area near the pipe. A break in the pipe does not have to be a hassle. The following is a list of five things you need to know about trenchless repairs, and why it is the best option!
1.) Your Landscape is Protected
In trenchless repair, soil is not removed or altered, so your landscaping is safe and sound with our procedures. We have different forms of trenchless repair, and they all have one thing in common: no excess digging. You do not need to worry about your beautiful garden or lawn being destroyed due to a broken pipe. Your property will not be altered due to our technologically advanced procedures.
2.) Repairing, Not Replacing
Trenchless repair is all about repairing the existing pipe by adding lining to the inside of the first pipe. This does not completely replace the existing pipe; it just makes it as efficient as it was when it was newly placed. This thus makes the procedure less expensive.
3.) Cost-Effective
Because the procedure involves repairing the pipe and not completely replacing the system, your wallet will be getting its own version of trenchless repair. Trenchless repairs are cost-effective in that the repairs to the pipe will last a long while at the same amount as would a new replaced pipe. At the end of the day, the environment is happy, the pipe is happy, and your wallet is happy.
4.) Four Kinds of Trenchless Repair
5.) Water Line Replacement is Also Available
Water pipes may not always work as well as they should. In times like these, you most likely need your water pipe prepared. Here at Express, we can pull the old ones out while simultaneously pushing the new ones in. This means we do not damage the grounds or the surrounding environment. Our work ensures that we only do the necessary procedures so we do not disturb the area.
Contact Us Today
Here at Express, our experts are trained in the four main types of trenchless repair. We are always prepared for any plumbing, drain, or piping event that may occur at any time. Our professional service will ensure that your pipe is repaired properly and efficiently. For any and all questions regarding trenchless repair, pipes, or plumbing in general, do not hesitate to contact us today.
Topics: Trenchless Technology, Sacramento Plumbers and Pipe Repairs