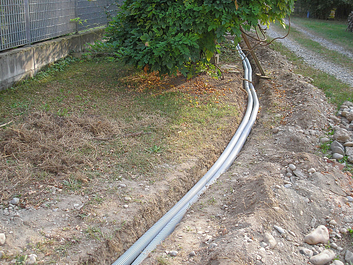 Homeowner's insurance is intended to protect you from the high cost of damages and repairs to your home, whether they stem from aging utilities or faulty installation. This applies to almost everything within your home and on your property, including electrical wiring, insulation and (you guessed it) plumbing.
In the event of pipe failure, fracture or collapse, it's very likely that the damages will be covered under your homeowner's insurance policy. It all comes down to when and where your pipes fail, and what type of break you are dealing with.
In this post, we'll detail what factors may affect your coverage for damaged pipes, as well as what you can do to have your pipes restored at minimal cost.
Understanding Your Coverage: When a Pipe Break Occurs
Generally, damage to your home's pipes is more likely to be covered by homeowner's insurance if they are sudden, and not arguably linked to negligence. If a water line under your home is compromised by an earthquake, fire or other environmental factor, there is little you could have done to prevent the damage; thus, damages and repairs will likely be covered by homeowners insurance.
However, if your pipes have finally given out after years of use, wear-and-tear or poor general maintenance, there's a much smaller chance your coverage or claim will be approved. Homeowner's insurance covers non-negligent, accidental damages; not pipe degradation due to old age or poor care.
When you file a claim for coverage, claims adjusters will take all things into account about the affected pipes in your home. This is how adjusters determine whether damage was truly accidental, or the result of poor care and aging. Claims adjusters will evaluate all of the following:
The estimated age of your pipes, and any regular maintenance
Indicators of pipe aging (corrosion, rust), particularly if they may have played a role in pipe failure
Pipe location; particularly, the location of damage
Damage caused by previous repairs or poor care
General weathering
Claims adjusters will try to find ways you could have prevented the pipe damage with regular care, and use these justifications to deny your insurance claim. If you regularly maintain your plumbing, and are faced with pipe damage due to non-negligent factors, you'll likely receive full coverage for your repairs.
Understanding Your Coverage: Where a Pipe Break Occurs
Beyond pipe age or negligence, the physical location of your pipe (and the damage) will also affect coverage by homeowner's insurance. If pipe breaks occur directly under the foundation of your home, you can breathe a slight sigh of relief, as these are generally covered by homeowner's insurance policies.
However, the same cannot be said for municipal systems (the neighborhood sewer grid), and pipes connecting to municipal sewer lines that may be outside of your property. If a pipe is broken or fractured beyond your home's foundation, yet still affects your plumbing, you'll have a harder time receiving full coverage; in these cases, it is more difficult to justify that the pipe is on your property, and thus covered by homeowner's insurance.
Just like home pipes and damages, not all homeowner's insurance policies are the same. Before you file an insurance claim to receive coverage for pipe repairs, go over your policy to learn how broadly you are covered for pipe damages. What is covered under one policy may not be covered under another.
The best way to handle plumbing repairs and pipe replacement in cases such as these is to preventatively care for your pipes. You want to be able to prove that damage to your pipes is not due to negligence or poor care, but rather unavoidable, sudden factors (which would be covered under almost all homeowner's insurance policies).
For more information on what you can do to better care for your home plumbing, as well as affordable repair options, don't hesitate to contact us.
Topics: homeowners insurance, Trenchless Technology, Sacramento Plumbers and Pipe Repairs