Hydro-Jet Cleaning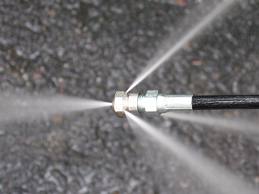 When it comes to municipal sewer line buildup, effectively clearing the mess can be a stress-inducing, expensive effort. The more materials, corrosive elements or debris have accumulated in your municipal sewer, the harder it will be to remove them completely; the harder it is to remove them, the more your ultimate cleaning bill skyrockets.
Whether you're stuck with clogged sewer lines or need professional cleaning performed before a major renovation, such as municipal pipe lining, pressurized hydro-jetting is typically the most effective cleaning application available. We offer solutions to not only clear municipal plumbing lines problems, but also prevent repeat instances for years to come.
What Is Hydro-Jetting?
Hydro-jetting uses highly pressurized, concentrated air to blast water through clogged, corroded or damaged municipal pipe lines, freeing any blockages from within. Hydro-jetting is usually the first approach we recommend to clear severely clogged or damaged sewer pipe lines; best of all, it does so without disruption or backflow.
Hydro-jetting, a trenchless technology, makes it possible to clear sewer lines without digging a foot of soil. As the jetting equipment is inserted via pre-existing manhole points, you can completely avoid disrupting traffic or foot traffic when clearing your damaged sewer line. We can jet municipal pipe lines of various sizes, whether they're 1-1/2" or 48" in diameter, and of any age or configuration.
Effective Sewer Maintenance for Improving Sewer Lifespans
Clearing municipal sewer lines probably isn't something that comes to mind every day; however, when a sewer line clogs or break, it can huge implications that leave you wondering what you could have done to mitigate the problem.
For aging sewer lines or those with waning water/waste flow, pressurized hydro-jetting can often resolve buildup with ease, and help you avoid large-scale, costly sewer disasters.
Our well-trained, professional and experienced plumbers are drain clog clearing experts. We have years of experience in clearing residential pipe lines, and have invested in ongoing education that makes us better than our competition.
We always offer our valued customers options. We believe that a clear choice across the board can save you time and money and, by offering you that kind of flexibility, we can deliver custom levels of service not available anywhere else for cleaning your home pipe lines.