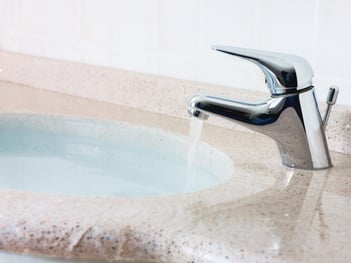 While understanding the most common causes of clogging helps homeowners prevent clogging and pipe replacement projects, chances are that at some point you're going to have to deal with a clog in your shower, tub, toilet, or sink drain pipes.
How can you fix it quickly and prevent it from happening again? When dealing with gunk and residue buildup in home drains, you need fast and reliable residential drain cleaning service from professional plumbers.
What Is Residential Drain Cleaning?
Home drain cleaning involves having a professional plumber come to your home to inspect clogged showers, tubs, toilets, and sinks. The plumber can use a drain cleaning tool or and drain cleaning machine to flush out the pipes, including:
Snaking: A long, flexible auger is fed through your drain pipes, grabbing at clogs and blockages and either forcing blockages safely through your pipes or pulling them out with the clog material intact.
Hydro-jetting: Considered a trenchless technology, residential hydro-jet drain cleaning involves placing a high-pressure water hose into clogged pipes to blast water through the line, breaking apart clogs and forcing them through the pipe.
At Express Sewer & Drain, we make residential drain cleaning quality our priority on every house call and provide affordable pricing for whatever treatment your pipes need. Our team consists of drain clog clearing experts with years of experience, and they're continuously learning to provide you with the most up-to-date knowledge.
Who Needs Residential Drain Cleaning?
As long as water is flowing freely through the drains of their home, most people give their pipes little thought. As they say, "Out of sight, out of mind." However, when a drain becomes clogged and is pouring dirty, smelly water onto your floor, it's a different story!
Homeowners with plumbing emergencies will want to call in a professional plumber for drain cleaning. Having a residential drain cleaning scheduled regularly can help prevent emergency drain cleaning in the future; as they also say, "An ounce of prevention is worth a pound of cure"!
The following are the most common causes of residential drain clogging, which we often see troubling Sacramento homeowners:
Hair: The most common reason for residential drain clogging, hair buildups happen over time and quickly prevent any liquid from going down your drain.
Grease: Running grease, oils, or other fatty goods through your kitchen sink/garbage disposal will quickly result in a home drain clog.
Miscellaneous Objects: Soap, toilet paper, plastic goods, and other materials can often cause home drain blockage. They may not cause instant clogging, but over time they can certainly cause problems requiring professional attention.
Roots: Strong tree and plant roots have been known to penetrate pipelines, growing into them and creating a backup.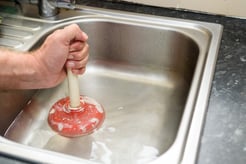 One common mistake many homeowners make when cleaning drains is the use of improper and ineffective cleaning techniques, from using a plunger incorrectly to pouring harsh drain cleaning chemicals down drains. This can make matters even worse!
If you're struggling with clogged or poor-performing drain pipes, don't hesitate to reach out to the professional Sacramento plumbers at Express Sewer & Drain.
5 Signs You Need Residential Drain Cleaning
While a residential drain cleaning can be scheduled regularly as a preventative measure, there are signs that you may need cleaning sooner than later. Here are our top five.
1. Changes in Water Pressure/Flow
Fluctuations in water pressure or decreases in water flow are indicative of a clog or cracking/breakage along a water line. If you notice any changes in the amount of water your home's fixtures produce or the speed/force of flow, contact a pipe repair specialist before problems become worse.
2. Material Debris from Water Fixtures
Material debris, such as gunk or grime matter, coming from water fixtures when you turn them on are clear signs of severe clogging within your home's pipes. These clogs typically develop from poor drain care or waste disposal.
3. Dampness/Wet Spots
Damp or wet spots inside or outside of your home indicate that your drains are clogged or that pipe failure is imminent. Wet spots in walls and ceilings are another sign to look out for in your home.
4. Irregular Lawn Features
When a subterranean pipe collapses it will release large volumes of water into the soil beneath your lawn, creating puddling or flooding, overly lush grass pockets, and/or foul odors, especially when coming from drain entrances and irrigation.
5. Inexplicably High Water Bill
For those who take a numbers approach to maintaining their home, irregular spikes in a water bill that can't be accounted for (say, filling a pool or watering the lawn frequently during a dry spell) can be the most reliable indicator of clogged drain pipes or leakage.
4 Risks of Delaying Residential Drain Cleaning
Skipping out on regular inspections can allow grease and debris to accumulate in your pipes, which can develop into more severe damages over time. Many plumbing and drain cleaning specialists suggest pairing monthly self-inspections with annual or semi-annual professional inspections. Plumbing experts can detect drain performance issues more accurately than untrained eyes, and offer the most effective advice on proper at-home drain cleaning and plumbing maintenance.
Delaying inspection can result in any one of the following:
Serious sewer line clogs causing wastewater to back up into your home
Corrosion of a water heater impacting temperatures
Home damage due to flooding pipelines
Exposure of health hazards to family members and guests
What Are the Benefits of Residential Drain Cleaning?
1. Faster Drainage
Cleaning your drains allows them to drain more quickly and efficiently; water will no longer "stand" in the drain and slowly gurgle its way down the pipe. A clean kitchen drain or and other water fixtures will be less likely to overflow it helps prevent backflow in toilets.
2. Extended Drain Life
The buildup of chemical deposits inside drain pipes can cause them to corrode. This extends the life of your existing pipe, so you do not have to go to the expense of gutting your home in order to replace all of your existing drain pipes.
3. Prevention of Foul Odors
Mold spores love a dark, damp environment, and the interior of your home's drains have plenty to spare. Failure to clean drains allows the buildup of these molds and bacteria, which produce unpleasant smells. Giving your drain a thorough cleaning can destroy or at least wash away these mold spores and prevent bacteria from setting in.
4. Prevention of Home Damage
Water damage from a clean water pipe is bad enough, but the damage that a leak in a drain full of wastewater can cause is even more devastating, as this water comes pre-loaded with harmful chemicals and bacteria. This unsanitary water can cause discoloration to any flooring or walls it comes into contact with, which can be very costly to repair or replace.
5. Prevention of Clogs
Of course, the most obvious benefit of cleaning your drains on a regular basis is that it will prevent clogs from forming. This means that you will not have to put up with stopped-up sinks or toilet backflow.
The Cost of Residential Drain Cleaning in Sacramento County
The cost of residential drain cleaning will depend on the method of cleaning your plumber recommends. The cost will also vary based on the professionals you call, their level of experience, and the equipment they use. In general, you can expect to pay anywhere from $175-$500 for residential drain cleaning. A regularly scheduled preventative drain cleaning will cost you less (and save you from paying a bundle down the road when major problems arise).
A couple of things you may wish to ask your plumber:
Do you charge for estimates?
Asking about the cost of estimates when you're shopping around for Sacramento plumbers can save you from finding charges you didn't expect on your bill later, such as trip charges.
Do you charge flat or hourly rates?
How Sacramento plumbers charge you for their drain cleaning services varies from one company to the next. Make sure that the quote you receive states whether the job is all-inclusive of labor and parts or if you will be charged by the hour for labor, plus the cost of parts.
How to Hire the Right Plumbing Company for Residential Drain Cleaning in Sacramento
It's important to hire the right plumbing company to ensure you get high-quality service that's fairly priced. Three things to look for when choosing a plumber:
Positive Reviews
Reading customer reviews provides valuable insight into other customers' first-hand experiences with the plumbing company's services. This can help you decide whether the plumbing company has the experience and quality services you want.
California Licensed & Insured
It's important that any plumbing company you hire is properly licensed and insured. It's California law that a plumber must have a current license to operate, which ensures they have the right training and are properly educated on California laws and codes on plumbing procedures.
Also, it's wise to look for a plumbing company with worker's compensation and liability insurance. If you hire an uninsured plumber who gets hurt on the job, you can be held responsible for their injuries!
Guaranteed Work
Guaranteed work determines what will happen if the problem returns and whether or not the plumber will fix it again. Hiring Sacramento drain cleaning professionals who offer guaranteed work will make sure you're satisfied with the final results. And if you're not? They'll continue to work until you are.
Residential Drain Cleaning Service from Express Sewer & Drain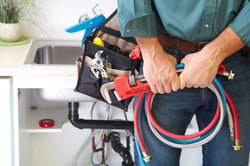 Plumbing problems happen – sometimes at the worst times. We don't want that to happen to you. We can take care of emergencies and perform regular residential drain cleaning to prevent problems from happening in the first place.
Express Sewer & Drain cleaning experts service any location within Sacramento County, as well as the suburbs, including:
With Express, you can trust you're receiving only the best service from trained professionals who have built their business on honest, ethical billing, quality workmanship, and unparalleled customer service. If we can help you, we'll be there for you. Contact us today.