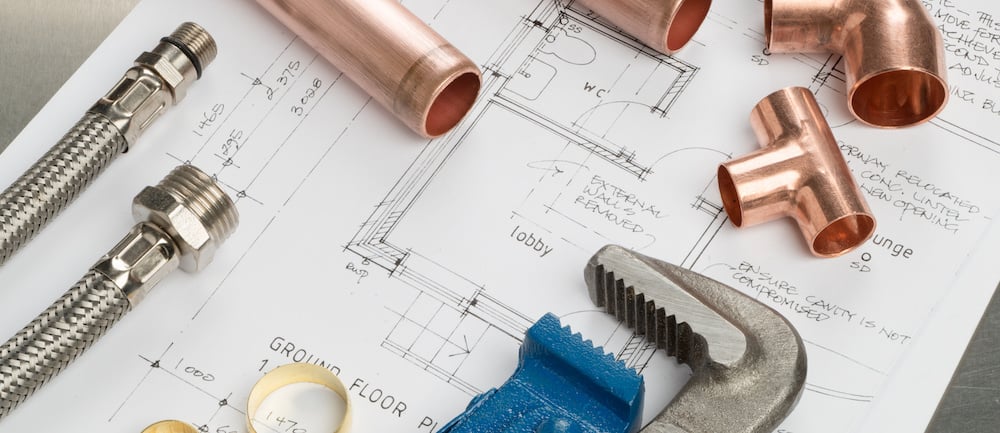 Not all plumbing companies are created equal. While most can handle residential plumbing, not all are equipped to maintain and repair commercial plumbing systems. Commercial properties have special needs – one of them being that when they have a plumbing problem, they need a plumber ASAP! That's because there may be hundreds of people counting on the plumbing to function properly in a commercial building, whereas just a small number of people rely on residential plumbing in a household. So, let's take a closer look at commercial plumbing and questions to ask your commercial plumber.
What is a Commercial Plumber?
Before delving into the questions to ask a commercial plumber, let's look at what makes commercial plumbers different. Commercial plumbers are those who work with water supply and wastewater drainage systems for businesses, public spaces, building complexes, and high rises. They are responsible for the regular maintenance and repair of all such systems. Because of the complex nature of commercial buildings, commercial plumbers have a high level of skill and training.
So what makes commercial plumbing so much different than residential plumbing?
Many commercial buildings have multiple levels; when there are more than two stories, gravity has a much larger impact on water pipes, drainage, tanks, and other fixtures.
Size does matter when it comes to plumbing. In a commercial property, everything is bigger: the building, its water system, the plumbing equipment used, and of course, the problems. This requires specialized knowledge and skills.
Maintenance standards tend to be higher in a commercial property because a plumbing failure can impact hundreds of people, or disrupt work (consider a hospital, for example; a plumbing failure would be a really big issue). Most commercial buildings will have plumbing maintenance contracts so that they're regularly serviced to avoid bigger problems down the road.
Regulations abound when it comes to commercial plumbing, so commercial plumbers need to be sure their work is flawless. Consider a restaurant for example; poor plumbing can become a potential health hazard, so it is monitored through health and safety inspections.
Leaky pipes and inefficient heaters can have a much greater impact on commercial buildings than residential homes. Think about how much energy and resources are wasted when a 50-story building's plumbing system is not operating with efficiency in mind.
What Does a Commercial Plumber Do?
Commercial plumbers in Sacramento can help you maintain, repair, and offer preventive maintenance for your plumbing system. These are the guys you'll find fixing public bathrooms, wading in flooded basements, repairing broken fixtures in schools, checking water pumps and water heaters, and a whole host of other jobs.
These skilled workers also work some funky hours; since most commercial properties are occupied during normal business hours, commercial plumbing contractors often work after-hours so as not to disrupt the day-to-day activities of the business or operation.
Five Questions to Ask Your Commercial Plumber
To be sure you're getting the best commercial plumbing service, we've outlined five questions to ask. If a commercial plumber seems irritated by the questions or refuses to answer them, it's best to look elsewhere.
1. Are you licensed and insured?
Things can go wrong when doing system maintenance and repair on your property. In the event that there is property damage or personal injury, you want to be sure that the company you are using is licensed and insured. This assures you that the plumber working on your commercial property knows what they are doing and is insured for what they are doing. Using an inexpensive company that does not offer these benefits may cost you a lot more money in the long run than paying a little more upfront.
2. Do you charge for estimates?
If you have a commercial plumbing emergency, an estimate may not be your top priority! If, however, you are getting quotes to determine whom you want to hire for a particular job, you may want to ask if there is a charge so that you know before being hit with a bill you did not expect. Often called "trip fees," these estimate fees are something you want to know about before hiring commercial plumbers in Sacramento.
3. Do you charge flat or hourly rates?
How commercial plumbers charge you for their services varies from one company to the next. Make sure that the quote you receive states whether the job is all-inclusive of labor and parts or if you will be charged by the hour for labor, plus the cost of parts. It may seem like an insignificant distinction, but not knowing the price upfront can allow you to be nickeled and dimed on the cost of your project.
Professional, licensed commercial plumbers in Sacramento can give you a quote that should be very close to the final cost for your plumbing issue (of course, hidden plumbing problems could be uncovered which could add to the total spend). Whether the cost is for an inspection, clean out, or repairs, commercial plumbers in Sacramento have solutions for your problems.
4. Do you guarantee your work?
Some plumbers will guarantee their work and many of the products that they use have warranties of their own. When seeking commercial plumbers in Sacramento ask them if they guarantee their work. You should also inquire as to what guarantees are on the products they will use to make repairs to your commercial plumbing system.
5. Do you have the latest equipment?
Commercial plumbers should have the latest equipment in order to get their job done quickly and efficiently. However, this modern, specialized equipment is expensive and many plumbers do not make the investment in them. That can mean the job won't be completed to current standards, or it could mean a greater labor cost, as newer equipment can save plumbers a lot of time.
In the event you have a plumbing failure, for example, they need to be able to perform a sewer video inspection to find the problem. Trenchless sewer and water line repair should also be a specialty; this enables plumbers to repair and replace sewer and water lines without digging up your parking lot or interior floors. So, make sure that the commercial plumbers that you choose to work with are equipped to do the job right with the right tools.
6. Do you do plumbing maintenance contracts?
Plumbing service agreements ensure commercial properties stay maintained, and provide contractors with guaranteed income – talk about a win-win. A service agreement will help catch and cover small problems that could become more complex and expensive problems in the future. In the long run, this can help save you money. More and more plumbers are offering service agreements that typically require you to pay a set annual fee.
Commercial Plumbing Repair to Fit Your Needs
Wondering how to find a local commercial plumber? If you're in or around Sacramento, look no further! We know that having plumbing issues at your commercial property can impede business, and cause bad working conditions for your employees and customers while costing you money. Our commercial building plumbing specialists have the knowledge and skills to tackle all your plumbing problems; we can even act as your emergency commercial plumber when you're in a pinch! Contact us today for immediate plumbing assistance or to schedule an appointment.