Directional Boring
At Express Sewer & Drain, we believe that industries and municipalities can benefit MUCH from trenchless technology. Trenchless methods, or "cured-in-place-pipes" (CIPP), are a great example of 'work smarter, not harder.'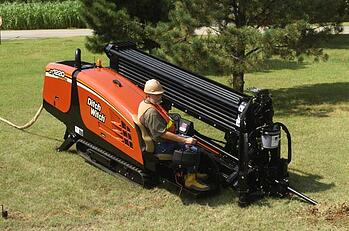 Trenchless methods are:
'Greener' than traditional methods
Non-destructive
Cost-effective in the short and long term
Labor efficient, with outstanding results
Incredibly durable, lasting over 50 years
Ditch Witch directional boring is another revolutionary trenchless product that will not disrupt commerce or pose an environmental threat. If you're in position to make decisions regarding your city's sewage repair, call us today to find out more about the many benefits of directional boring.
What Is Directional Boring?
Directional boring with Ditch Witch is a steerable trenchless technique for installing underground lines like sewer pipes and water pipes, conduits and cables along a path. Directional boring is the preferred method for refurbishing municipal sewers, as well as being the better choice for large industrial jobs.
No collateral damage to property
No unnecessary traffic disruptions
No commerce disruptions
Greener and more sustainable
Cost-efficient NOW and in the FUTURE!
Directional boring is suitable for a variety of soil conditions and jobs including road, landscape and river crossings. Installation lengths up to 6,500' (2,000m) have been completed, and diameters up to 56" (1,200mm) have been installed in shorter runs.
Pipes can be made of materials such as PVC, polyethylene, polypropylene, Ductile iron, and steel, so long as the pipes can be pulled through the single access point.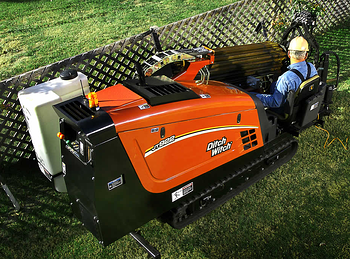 Directional Boring Process
Like all other trenchless methods, the process begins with a receiving hole and entrance pits:
First, a "pilot hole" is dug for entry.
Then, a second maneuver enlarges the hole by introducing a larger cutting tool. The reamer's diameter is dependent on the size of the pipe.
The driller increases the diameter according to the material being cut and to achieve optimal production.

Finally, the sewer pipe is placed into the enlarged hole by way of a steel drill, after which it is pulled behind the reamer to allow centering of the pipe along the new path.
Directional boring is ideal for infrastructure, particularly municipal sewer systems, and is commonly used for crossings, waterways, roadways, shore approaches and other environmentally sensitive areas.
It is used instead of other techniques to provide less traffic disruption, lower cost, deeper and/or longer installation, no access pit, shorter completion times, directional capabilities, and environmental safety.
Call To Find Out Directional Boring Can Benefit You
One forward-thinking way to do that and deal effectively with our infrastructure is to dig as little as possible, and we've made significant strides in minimizing our impact when we refurbish sewer and pipelines the trenchless way.
Because trenchless technology needs only negligible access points to successfully revitalize miles and miles of sewer pipe, environmental destruction is kept to an absolute minimum.