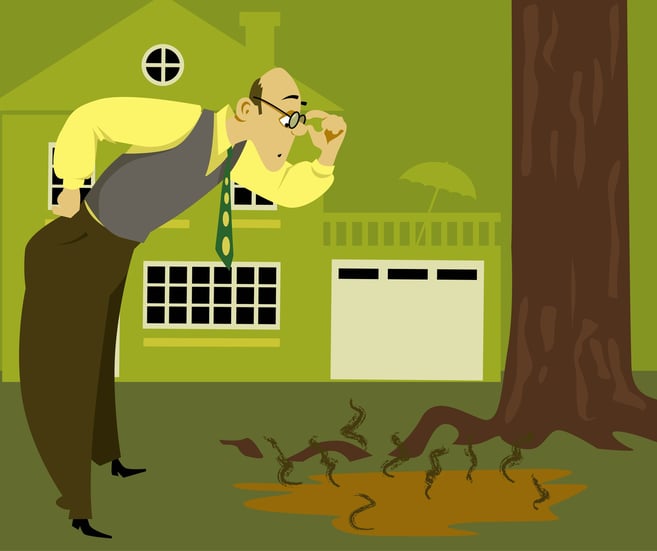 When a failed sewage line is leaking raw sewage into your yard, finding a plumbing solution is a race against the clock. Every moment spent searching for the right service is an opportunity for the existing problem to get even worse. Fortunately, there are a few ways to speed up the search and help to resolve the situation as quickly as possible.
Step 1: Consider a trenchless plumbing solution
Trenchless sewer line replacement is one of the most exciting developments in plumbing technology. Using directional boring and Perma-Liner epoxy solutions, trenchless technology allows plumbers to completely replace underground lines without expensive and unsightly digging.
Often requiring only one hole to be dug, trenchless solutions save both time and money. Traditional replacement methods often take several days to complete and can completely destroy existing landscaping, sidewalks, and driveways. By utilizing trenchless technology, plumbers can replace damaged sewer lines on the same day they make an initial assessment, and with minimal disruption to your schedule.
Trenchless technology offers a wide range of solutions, many of which can most likely be applied to your specific situation. Whether you need to repair a leak or completely replace a sewage line, trenchless techniques can be utilized quickly and effectively without turning your home into a hazardous job site for days on end.
Step 2: Finding a trenchless sewer repair service
This could be as simple as performing a Google search or asking Siri to call up a list of plumbing services in your area. You'll want to be sure you're specifying that you want a company that utilizes trenchless technology. Since this technique is being used more frequently, plumbing services are quick to advertise it as an option.
But while many plumbers may offer trenchless solutions, you'll want to find a contractor familiar with the latest techniques and technology. By visiting a contractor's website, you can get a good sense of how committed they are to trenchless methods. Do they simply mention it in passing? Or is there a wealth of information about the service showcasing just how excited they are about the possibilities of this new technology?
Of course, you should always remember to stick to responsible, licensed plumbers to ensure you're getting the very best service. To separate quality contractors from less reputable, "fly by night" operations, stick to plumbing services with certifications from rating organizations like the Better Business Bureau (BBB), the Gold Shovel Standard (GSS), and Angie's List.
Step 3: Choosing a plumbing service with proven track record
When considering plumbing services for trenchless solutions, experience should be a key factor in your decision. You want to find a company in your area with a long track record of working with this new technology. Go beyond simply calling the first plumbing service you find at a glance by finding customer reviews and feedback.
Some resources include:
Yelp:

Provides ratings and reviews for plumbing companies in your area, helping you to

find companies with a good reputation for service and reliability.

Facebook:

Another wealth of first-hand information and testimonials, Facebook also allows you to contact friends and family who have experience with the plumbing services you're considering.

Angie's List:

A great resource for not only customer reviews, but also for pricing information and detailed grades that help you to identify the best plumbing contractors.
Step 4: Make the call!
Setting up an assessment for plumbing work should be an easy and stress-free process. Be sure to ask questions about what solutions will work best for your situation. A quality plumbing contractor will be fully transparent about the work they're doing and how much it will cost.
After the work is completed, however, your relationship doesn't have to end. Chances are you'll experience plumbing problems again at some point in the future, so it makes sense to keep a trusted plumbing service bookmarked in your browser, saved to your phone contacts, or "Followed" on Facebook (or on the speed dial, if you're a bit old fashioned!).
For more information about trenchless solutions in the Sacramento area, you can start your search by contacting us at Express Sewer & Drain. We have years of experience in trenchless pipe replacement in the area and can help you find the ideal solution for your home, commercial, or municipal plumbing problems.
Topics: Plumbing in Sacramento, Trenchless Technology, Lateral Lining, Pipe Leaks and Repair, Sewers