Water Pipe Replacement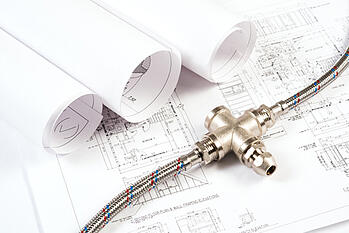 Have you been experiencing drops in water pressure? Does your shower lack the power it once had? It might be time for a water pipe replacement. Over time, pipes are subject to wear and tear, corrosion (especially if you have old galvanized steel pipes) and clogs. Therefore, mild to severe drops in water pressure are common in aging systems.
We specialize in replacing aging, worn out water pipes in:
Single family homes
Commercial properties
Multi-family dwellings
Industrial structures
Leaks are another common issue with old pipes, particularly if they're polybutylene, old copper or galvanized pipes. Leaky pipes can cost you money by sending your water bill through the roof and causing considerable water damage. Water damage can pose significant health risks. Please see our page on leak detection to find out more about mold, spores, fungi and their effects.
If you suspect you have leaky pipes, call Express Sewer & Drain today for our meticulous leak detection services.
Multi-Family Dwelling Water Pipe Replacement
If you own an apartment building or other multi-family dwelling, and tenants have been complaining about spikes in water bills, it might be time for water pipe replacement. Like any measure of maintenance, water pipe replacement will save you money in the long run and keep your building filled to capacity. Call us today to schedule a free video inspection of your property
Commercial Property Water Pipe Replacement
No matter whether it's an office building, office park, high rise or mall, Express Sewer & Drain has the experience, tools and knowhow for commercial water pipe replacements. Pipes age and wear out, and hydronic piping systems can leak, causing significant property damage and frequent downtime heating and cooling systems. Call Express Sewer & Drain to schedule an appointment.
Single Family Home Water Pipe Replacement
Polybutylene, dezincified yellow brass fittings, aging copper and galvanized pipes eventually become defective. Save money in the long run by investing in your home's plumbing infrastructure.
We take care to treat your home the way we treat our own: with respect and care. We will work with you every step of the way to assure that we deliver exactly what you want and need.
If you're experiencing drops in water pressure, higher water bills or suspect you have leaky pipes, call Express Sewer & Drain today to schedule a FREE consultation.
Remember: we offer FREE video inspection of your property's sewer and piping infrastructure for certainty and peace of mind.