Commercial Sewer Video Inspection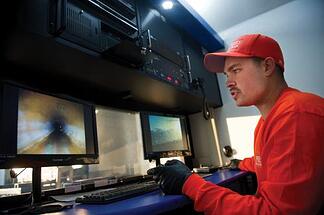 When it comes to restoring commercial pipe damages, cost and repair labor will always be some of the first things that come to mind. However, there are steps you can take to potentially save thousands on repairing your commercial sewer and water lines.
One of these steps is reaching out to a plumbing expert in your area and having a sewer line inspection performed using a pipe inspection camera. So what is a sewer system video inspection, and when do you need one?
What Is a Commercial Sewer Video Inspection?
In the past, plumbers would have to more or less guess what was wrong with a commercial pipeline based on its condition and their own experience. Today, sewer video inspections have eliminated the guesswork!
Video drain inspection involves putting a small, high-resolution video sewer camera fitted with a light down a length of pipe to get an inside look at it. Every crack, flaw, blockage, and piece of buildup can be recorded in high-definition video so that plumbers can know exactly what they're dealing with.
Sewer video inspection is a fantastic tool to help identify what is wrong with your commercial sewer lines and plumbing. Professional video inspection services can detect virtually every cause of pipe damage and type of pipe, including:
Offset joints
Service and commercial laterals
Cracked pipe
Off-grade and broken pipes
Drain lines
Recessed taps
Blockage
Protruding lateral pipe
Root infiltration
Corrosion
Collapsed pipe and infiltration
Commercial clean-outs
Who Needs a Commercial Sewer Video Inspection?
A sewer video inspection is a perfect solution for most problem pipes at commercial and municipal properties. This includes businesses in the following industries:
Food and Beverage
Hospitality
Manufacturing
And more
A commercial sewer video inspection can reveal the precise cause and extent of commercial pipe damage, and help you pick the most practical, affordable repair solutions.
6 Signs You Need a Commercial Sewer Video Inspection
While a commercial sewer video inspection can be scheduled regularly as a preventative measure, there are signs that you may need a video plumbing inspection sooner than later. Here are our top six.
1. New Property
Purchasing a new commercial property is a big and expensive undertaking, so the last thing you want to do is a completely new sewer installation. Before you sign any papers, schedule a commercial sewer video inspection to ensure there are no pipeline issues. If there are, you can require that it is repaired by the seller before you make the deal.
2. Water Damage
Leaking sewage pipes usually leads to visibly damaged ceilings, walls, or floors. If you spot damaged areas, a video drain inspection can get to the root of the problem.
3. Mold Growth
Water damage frequently leads to mold and fungi growth. This is often visible or you may notice a musty smell. These bacteria can cause illnesses to employees and guests if not monitored and taken care of, so be sure to contact a professional plumber for an inspection.
4. Landscaping Changes
If you see a wet depression in the grass (often with a bad odor) you may have a cracked pipe leaking wastewater onto your property. Lush green grass growing where it normally doesn't grow is also a sign of a leak.
5. Poor Drainage
Slow draining sinks, toilets, and tubs may be caused by blockages or sedimentation in the sewage pipes. Drains can get progressively slower over time, and while it could be a simple issue it could also be a sign of a larger issue. If you've tried a DIY drain unclogger or have actually tried snaking it yourself with no results, a sewer video inspection is in order.
6. Foul Smells
Is there a bad odor emanating from your drains? That means wastewater isn't draining away efficiently. A sewer camera inspection will let you know exactly what the problem is and if you need sewer line repair.
4 Risks of Delaying Your Commercial Sewer Video Inspection
Commercial businesses and municipal buildings see far heavier usage than the plumbing found in a typical household. After all, residential plumbing only has to serve the limited needs of the family living in the home. Commercial plumbing, in many instances, has to provide service to dozens, perhaps even hundreds of people, sometimes even around the clock. This puts a lot of pressure on your pipes!
Delaying inspection can result in any one of the following:
Serious sewer line clogs causing wastewater to back up into your building
Corrosion of a water heater impacting temperatures
Building damage due to flooding pipelines
Exposure of health hazards to workers or visitors in your building
What Does a Commercial Sewer Video Inspection Consist Of?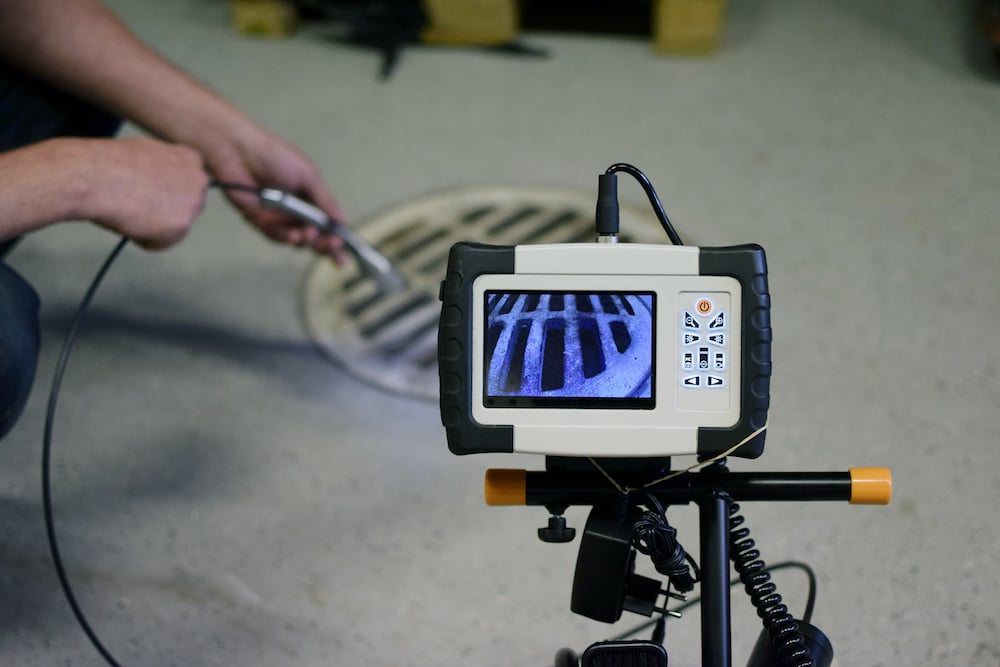 To inspect your business's sewer line, a trained technician will insert a professional video camera into your pipe and will inspect the line through the following steps:
Entry: Most businesses have a cleanout port access for their sewer line and a technician will use this entry to access your pipe, otherwise a small hole will need to be made to create an insertion point for the pipe inspection camera.
Insertion: The second step of the process is the insertion of the sewer camera into the pipe. The camera is small and sends a live feed to a monitor/CCTV via a fiber optic cable, which allows the technician to view the inside of the pipe.
Examination: Since the CCTV operator is watching in real-time, he or she is able to view everything as the plumbing camera makes its way down the pipe. Your tech will be able to see whether your pipes are obstructed, broken, collapsed, corroded, and more.
Evaluation: Once the camera has run the length of the pipe, the recorded video is reviewed and your plumbing inspection team will make recommendations on solutions and what to do next.
Cost of Commercial Sewer Video Inspections in Sacramento County
Aside from your Sacramento County location, other factors playing a role in determining the cost of a commercial sewer video inspection are the professionals you call, their level of experience, and the equipment they use.
Some plumbers may charge a flat rate for a sewer video inspection, while others that charge by the hour; in that case, the length of time it takes for the inspection to be completed will be figured into the final cost. On average, a sewer camera inspection costs between $250-$850. If it's a routine inspection, costs may be less. Additionally, if the inspection reveals that repairs are needed and you use that plumber's services, the inspection cost may be waived.
How To Hire the Right Plumbing Company for Commercial Sewer Video Inspections in Sacramento
The right plumbing company will use video inspection first to save commercial property owners money and time. By performing a commercial sewer video inspection, digging up your parking lot, sidewalk, or other areas of the property for trenching can be avoided (along with the cost of restoring torn-up turf, asphalt, and concrete). Because there's no digging, there's a lot less labor involved in a video pipe/drain inspection
While there are a lot of ways to fix a problem in a pipeline, but not all of them will work in the long term. Plumbing professionals know this and will recommend a sewer video inspection to make a better-informed decision about the specific fix they should use—saving trial and error work on using different repair technologies.
Two other factors to consider:
Sewer Video Inspection Equipment & Experience
Ask what kind of CCTV camera equipment the plumbing company uses. Quality equipment that allows plumbing cameras to pick up even small details about the pipes to find any damages include:
Automatic and remote (manual) focus
Manual zoom up to 40x (optical and digital)
Iris control
Directional lighting capabilities for pipes anywhere from 6" to 48" in diameter
California Licensed & Insured
It's important that any plumbing company you hire is properly licensed and insured. Working with only licensed plumbers helps to ensure you're only receiving the most responsible and highest quality services. It's California law that a plumber must have a current license to operate, which ensures they have the right training and are properly educated on California laws and codes on plumbing procedures.
Also, it's wise to look for a plumbing company with worker's compensation and liability insurance with a $500,000 minimum. Why does this matter? If you hire an uninsured plumber who gets hurt on the job, the property owner can be held responsible for their injuries!
Commercial Sewer Video Inspection Servies From Express Sewer & Drain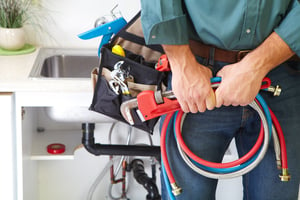 Plumbing problems happen – sometimes at the worst times. We don't want that to happen to you. We can take care of emergencies, perform an inspection prior to the purchase of a property, or set up regularly scheduled commercial sewer video inspections as a preventative measure. After the inspection, you can also see the video for yourself so you know that the repairs the plumber uses are the ones that are needed.
Our team consists of drain clog clearing experts with years of experience clearing commercial pipelines. We're also invested in ongoing education for our plumbing experts that put us a step above competitors. We deliver custom levels of commercial sewer cleaning not available anywhere else to the Sacramento area. If we can help you, we'll be there for you. Contact us today!