Commercial Sewer Video Inspection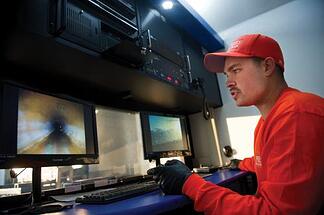 When it comes to restoring commercial pipe damages, cost and repair labor will always be some of the first things that come to mind. However, there are steps you can take to potentially save thousands on repairing your commercial sewer and water lines.
One of these steps is reaching out to a plumbing expert in your area and having a sewer video inspection performed. This inspection can reveal the precise cause and extent of commercial pipe damage, and help you pick the most practical, affordable repair solutions.
How Does Sewer Video Inspection Work?
During commercial pipe video inspection, we run precision video cameras through the damaged line in question, which allows us to see where and how your pipes are broken, clogged or otherwise inoperable.
Our professional video inspection services can detect virtually every cause of pipe damage and type of pipe, including:
Offset joints

Service and commercial laterals

Cracked pipe

Off-grade and broken pipes

Drain lines

Recessed taps

Blockage

Protruding lateral pipe

Root infiltration

C

orrosion

Collapsed pipe and infiltration

Commercial clean-outs
Commercial Pipe Repair Assurance
In the past, plumbers would have to more or less guess what was wrong with a commercial pipe line, based on experience and uncertain conditions; with the high end video sewer inspection tools available today, that hit-or-miss approach is no longer necessary.
If your commercial pluming pipes are slow, backing up or emitting foul and objectionable odors, video inspection will almost always identify the problem with ease. Call Express Sewer & Drain for a free consultation and sewer video inspection.
Sewer video inspection is a fantastic tool to help identify what is wrong with your commercial sewer lines and plumbing. It's all part of our mission to achieve unparalleled customer service and satisfaction.