Sewer Video Inspection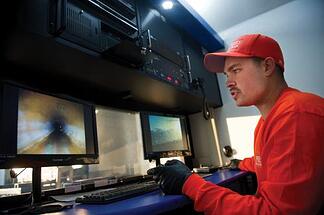 Renovating a municipal sewer line is never easy. However, there are tools and technologies available to make the process easier, and ultimately cost less in money, time and labor. When diagnosing damaged sewer lines beneath roadways, sidewalks or other properties, sewer video inspection tools can be used to pinpoint the exact cause and extent of damage without digging.
At Express Sewer & Drain, we use state-of-the-art video recording equipment to evaluate failing municipal sewer lines, and point customers in the right direction when restoring their sewer lines.
What Is Sewer Video Inspection for Municipal Sewers?
During inspection, we can determine the exact cause of a sewer pipe's failure, and identify the most practical (and affordable) repair solution on a case-by-case basis. This can potentially save you thousands of dollars in renovating your municipal pipe line.
Our video inspection technology can detect virtually everything that could have put your municipal sewer and pipe lines in jeopardy. This includes:
Offset municipal sewer lines
Sewer pipe cracking
Pipe protrusions
Obstruction or infiltration by the elements
Shifting soil
Severe blockage
Chemical corrosion or degradation
Pipe collapse
No matter what is causing your sewer pipes to back up or otherwise fail, we can assess the problem with 100% accuracy using video inspection equipment, and help you identify the most affordable repair solution for your specific situation. Call us today for a free consultation!
Eliminate The Guesswork From Repairing Municipal Sewer Pipes
Diagnosing municipal pipe problems is no longer the guesswork it one was. With high-end video inspection technology, we can identify the precise cause of sewer problems with ease and reliability that was impossible before.
Sewer video inspection is the ultimate tool in diagnosing municipal sewer pipe problems, which can inform your decision on next steps to resolve pipe issues. Not sure if manhole-to-manhole lining or sewer reinstatement is right for your pipe problem? Video inspection tools can push you in the right direction every time.