Trenchless Technology Solutions
Instead of digging unsightly, damaging trenches, we use a variety of incredible technologies that allow us to work underground without removing soil from your yard—protecting your landscape and saving you from costly property renovations. Regardless of your problem, our trenchless Perma-Liner products can create solutions.
Options
Lateral Lining and Reinstatement
Our trenchless lateral lining services use Perma-Liner solutions to line and reinforce the inside of pipes underground or within walls. These solutions can also reinstate sections of complex pipe systems without tearing into walls.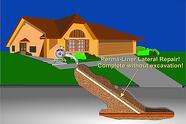 Manhole-To-Manhole Lining
Innovative trenchless solutions can also repair municipal manhole-to-manhole systems, using the same Perma-Liner solution as lateral lining to patch up pipe damage. During repairs, we use bypass pumps to keep sewer and water systems running.
Sectional Point Repair

Pipe Bursting
Water Line Replacement
Enjoy Our Complete Guide on Trenchless Pipe Repair [Download Guide]