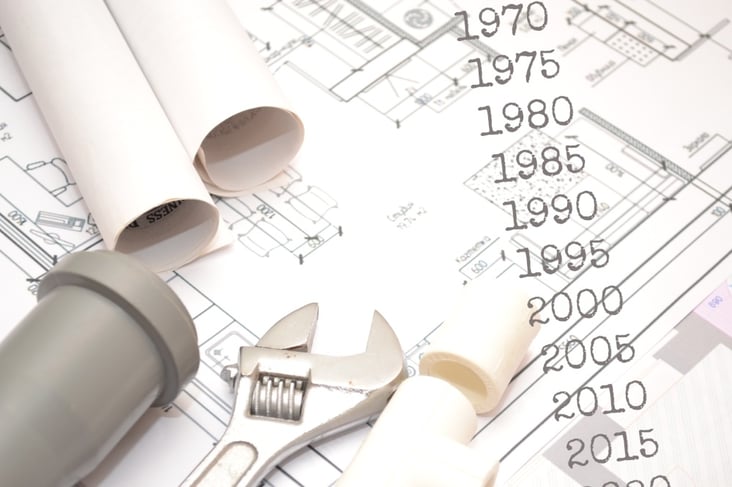 Trenchless technology became truly groundbreaking—by literally not breaking ground! It used to be that repairing, replacing, or rehabilitating existing underground infrastructure, such as sewer piping, required tearing up yards, streets, structures… anything that lie above it. With trenchless technology, however, no trenches (or at least much fewer) need to be dug in order to make the fix, saving time, money, and in some cases, the environment. It also causes much less disruption to businesses, homeowners, traffic, and other activities.
Trenchless technology follows two models, cured-in-place pipe (CIPP) or pipe bursting. CIPP involves pulling a special liner filled with resin through a pipe; once in pace, the resin hardens and provides a smooth, seamless pipe. Pipe bursting involves inserting a cable into a pipe with a bursting head, pulling it through and pushing away the old pipe while laying the new one in its place.
But you know all that, right? So let's take a look back at trenchless technology milestones through the years.
1970: CIPP developed. Eric Wood, a United Kingdom agricultural engineer, develops the first CIPP to repair an air duct that could not be repaired or replaced. Wood applies for and obtains a patent, but despite his success, the plumbing world remains skeptical.
1971: Insituform founded. With a name derived from the latin phrase "in situ form," meaning "form in place," Insituform becomes the first company to use CIPP.
1976: CIPP comes to the United States.The first CIPP project occurs in Fresno, California, and involves rehabilitating a 12" diameter sewer pipe.
1977: Pipe bursting introduced. The need to replace thousands of defective cast-iron pipes in the UK leads to the development of pipe bursting.
1980: Insituform of North America formed. This marks a worldwide reach of 25 countries for the company.
1986: International Society for Trenchless Technology established. A United Kingdom private limited company, ISTT aims to promote the benefits of trenchless technology across the globe, and is now affiliated with 28 regional societies across the world. Learn more.
1990: North American Society for Trenchless Technology founded. NASTT incorporates as a non-profit with the mission of advancing the science and practice of trenchless technology for the public benefit. Learn more.
1992: Trenchless Technology Magazine debuts. The magazine makes it its mission to bring readers unique perspectives and knowledge from the trenchless industry's leading experts through case studies, topical issues, and opinion pieces. Learn more.
1994: Eric Wood dies tragically in a plane crash in January; months later, Insituform's patents on the CIPP process expire, allowing other companies access to the technology and leading to healthy competition and lowered costs.
2001: First No Dig Show held. Created by the NASTT, the No Dig Show has doubled in size over the years, keeping pace with the rapid growth of the industry. Through interactive sessions, exhibits, speaking engagements, and networking events. Learn more or register.
2011: Express Sewer & Drain founded. Sacramento's own opens its doors and becomes an advocate for trenchless technology. Learn more.
2016: World Trenchless Day initiated. Celebrated on the fourth Thursday of September annually, World Trenchless Day highlights all of the technology's benefits while uniting the entire industry to reach out to those that have not yet realized or embraced trenchless methods in their community. Learn more.
It's safe to say, the world is a better place because of trenchless technology (and we do mean world—check out these stories of trenchless technology successes, from Canada to Italy). Thanks to innovators like Eric Wood, today we can repair, replace, and rehab safely, quickly, and cost-effectively!
At Express Sewer & Drain, we employ trenchless technology to address many commercial and residential sewer repair problems. If you have been experiencing a plumbing problem, contact us today.
Topics: Trenchless Technology