Sectional Point Repair
What Is Sectional Point Repair?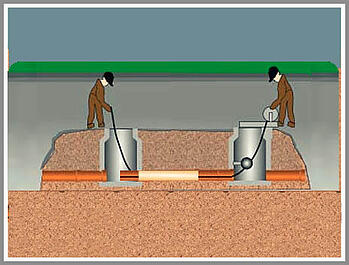 Sometimes, in cases of municipal sewer line repair, entire segments may not have to be cured; when damages are limited to a single point or intrusion, full pipe relining becomes impractical. If your sewer line falls under these conditions, plumbing experts can selectively repair the damaged section in particular via a trenchless process known as sectional point repair.
Following a comprehensive video pipe inspection, trenchless pros can pinpoint the cause of city sewer line damage and quickly repair it using trenchless lining solutions. Sectional point repair can resolve a wide array o localized, single-point sewer line damages, including:
Isolated puncturing or sewer line cracking
Pipe incongruity or disconnection
Sewer line joint failure
Bellying
Any damage requiring an eye for accuracy and extensive plumbing experience can be repaired with sectional point repair. Just like our other trenchless products, sectional lining is impressively durable and guaranteed to last over 50 years.
Why Sectional Point Repair?
Above all else, sectional point repair solutions offer quality, durability and dependability for many decades to come. Sectional lining applications can almost always be completed in a single day. It's also a non-destructive and entirely green process, which can end up saving you thousands compared to traditional sewer line repairs, or in situations where full sewer lining isn't necessary.
For municipal sewer pipe repair, jobs that used to take as long as several weeks to complete can now be done in a a single day. Small crew sizes, low overhead, and zero digging means valuable savings for you on your municipal pipe repair.