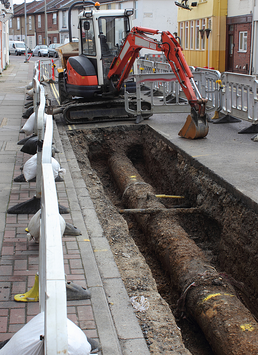 For city or municipal plumbing systems, dealing with pipe damages is a bit more complicated than it is for homes and private properties. In addition to time and cost, now you must also factor in roadway traffic, pedestrians and major restorations for municipal infrastructure.
Conventional municipal plumbing repairs leave much to be desired. Digging out municipal sewer lines and performing manual repairs can disrupt transit for days, and even put the public at risk for underground gas, asbestos or mold exposure. Fortunately, these impractical sewer repair processes are now a thing of the past, with modern innovations in cured-in-place lining known as trenchless technology.
Epoxy, Trenchless Resins Make Municipal Lining Simple
Outdated sewer pipe repair techniques run municipal repair costs and labor needs to unnecessary heights, which can be entirely avoided with today's trenchless solutions. Cured-in-place, epoxy resin lining makes municipal sewer repair simple, and can help city planners save thousands on their pipe repairs by eliminating digging from the repair equation.
These liners can be applied to damaged and compromised sewer systems through existing entry points; most commonly, this is done through manhole openings along municipal sewer systems (hence the name, "manhole-to-manhole lining").
By using these points to apply epoxy liners to damaged municipal sewer systems, trenchless technicians can help those dealing with pipe issues entirely avoid digging. As digging and landscaping efforts are typically the most expensive component of municipal sewer repair, the changes and savings trenchless brings are almost revolutionary.
Sewer line excavation can take days, if not weeks, to complete, and disrupt everyday foot and motorist traffic throughout repairs. Frustrating, expensive and potentially unsafe, excavations for municipal pipe repairs just don't make sense given efficient cured-in-place alternatives.
A Proactive Repair Approach
Municipal sewer line breaks pose an array of environmental and safety hazards, and require the immediate attention of city planning officials. Neglecting a sewer line break can lead to more expensive and severe problems, including:
Toxic water contamination or flooding
Street and sidewalk damage
Building damage and foundational degradation
For these reasons, the best approach to municipal pipe system repair is one that deals with the problem quickly, and restores sewer lines to working order with the most immediate results; as you may have guessed, this is trenchless manhole-to-manhole lining.
Once a damaged sewer section has been identified (typically through use of professional video inspection tools), trenchless technicians can sue resin liners and joint sealant solutions to repair municipal plumbing lines in a span of hours. While traditional, outdated repairs take days of expensive hard labor, cured-in-place alternatives can be applied and cured in as little as one hour.
With the elimination of digging, your municipal pipe repairs can be completed in a fraction of the time, and with a fraction of the risks, of older repair methods.
Sewer Lining Security for Years to Come
A common concern municipal planners have when they first hear of trenchless, epoxy pipe solutions is over quality; how can plastic resins effectively replace sewer lines made from concrete, or clay? Surely, there must be some drop in pipe quality with these trenchless solutions… right?
This is why so many city officials dealing with pipe damages are surprised to learn how reliable and safe trenchless repairs can be. Once effectively cured into place along affected sewer lines and joints, the resulting lining can be expected to last decades and decades to come, with 50 years of guaranteed performance.
No matter how complex, wide or damaged your specific municipal pipe systems are, trenchless, resin repairs can see to all of your needs in a more efficient and affordable way than excavation repairs. Trenchless lining for sewer pipes can resolves issues in your municipal lines no matter their cause. Consider going trenchless for:
Sewer line cracking and fracturing
Breakage due to environmental factors
Degradation with age
Corrosion or chemical breakdown
Intrusions along critical sections or joints
Dig-and-replace repairs can create further problems for your municipal sewer lines, and run repair costs through the roof. You can avoid these pitfalls and frustrations by applying trenchless repair solutions in your sewer systems.
In the Sacramento area, the most effective trenchless technologies are those employed by businesses like Express Sewer & Drain, who specialize in offering affordable solutions for municipal sewer solutions and private properties alike.
Topics: Trenchless Technology, Municipal Plumbing, Manhole Rehabilitation