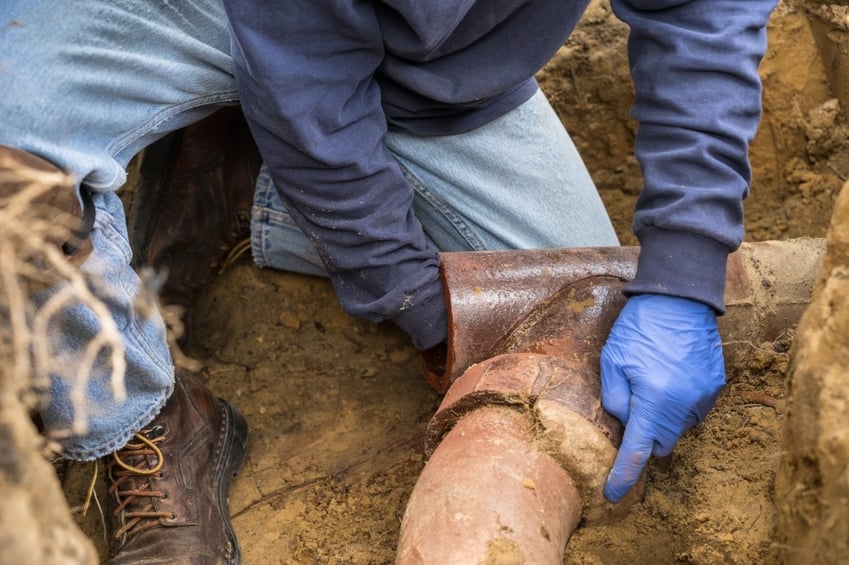 Piping gets old as time goes on— it's only natural. A system that is used multiple times a day and has all kinds of material being sent through it is bound to age. Proper plumbing maintenance strategies can reduce how quickly your piping system ages, but it can also depend on the type of piping material your home or commercial building uses. Some pipe materials, like orangeburg and galvanized pipes, are no longer used and have become banned or obsolete.
Now, while the idea of replacing your sewer line doesn't sound fun (especially to your wallet), trenchless sewer line replacement is a smart choice for homeowners to consider if their piping system is old or damaged. Here are a few reasons why it's beneficial!
Lower Cost Than Traditional Pipe Replacement
The good part about traditional pipe replacement? It's relatively cheap— as long as you don't mind having part of your lawn ruined. Depending on how much of your sewer line is being replaced, especially if it's the whole system, the plumbers will have to dig up large portions of your yard to remove the piping. But this doesn't just affect your lawn; it can disrupt your driveway, sidewalk, and fence lines. It is definitely the more labor-intensive and destructive sewer line replacement option.
Trenchless sewer line replacement is far less invasive, has an estimated lifespan of 50 years, and uses newer technologies to avoid ripping up your landscape. However, there are some hidden costs that should be considered for both sewer line replacement methods.
The first to consider is that with traditional sewer line replacement, a plumbing company's price estimate may include the cost of your damaged landscape, but it doesn't cover the cost of replacing what was ripped away, which could cost thousands of dollars to hire a professional landscaper. Another point to consider is, if the area being serviced won't disturb your landscape, then you may find it more affordable to go with a traditional sewer line replacement method rather than trenchless. Based on your situation, this can highly depend on what you're willing to spend.
Less Invasive
As previously mentioned, trenchless sewer line replacement is less invasive and can be done in a day's work in most instances. Of course, the speed of the job also depends on how much piping needs to be replaced. Unlike traditional replacement, trenchless sewer line replacement doesn't require cordoning off massive stretches of area. After a hole is created at either entry and exit site of the sewer line, the old piping is busted out and replaced with the newer piping. Plus, when looking over the extra costs from a traditional repair job, including landscaping and trenching labor, it makes just as much economic sense as it does job sense to choose the less invasive option.
Various Trenchless Technologies Available
Trenchless technologies use state of the art materials and processes to remove and replace old piping. The different trenchless technologies that can be done for trenchless sewer line repair include:
Lateral lining and reinstatement
Manhole-to-manhole lining
Sectional point repair
Pipe bursting
The piping used for trenchless pipe repair is also another benefit due to the improved flow offered by the material. Cured in place pipe, or CIPP, is flexible and is set once it has been installed due to the resin it is made from— making it a solid, seamless pipe. This allows for fewer obstructions compared to traditional PVC, iron, or clay piping.
If you need sewer line replacement services, the best decision is the one that works best for you. From a cost and labor standpoint, trenchless pipe replacement is the better and easier option. An inspection can always be performed to view the extent of any damage or repairs needed to your sewer line by a plumbing company if you are unsure of which replacement method to choose from.
Express Sewer is comprised of highly skilled and trained plumbers who are capable of performing a number of different plumbing services for residential, commercial, and municipal buildings — all at the best cost to you. For more information about our services, contact us today to get a free quote on your next sewer replacement job!
Topics: Trenchless Technology, Pipe Lining, Lateral Lining, Sewers