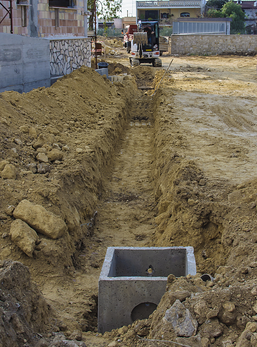 In many cases, hesitations toward trenchless repair technologies are due to a simple lack of knowledge. Granted, it can sound like an overcomplicated, expensive alternative to traditional sewer line repair. However, this is not the case; in fact, trenchless repairs can cost significantly less than traditional repairs, and offer additional benefits in both the short and long term.
Demystifying trenchless, cured-in-place pipe (CIPP) can help homeowners see the true benefits of these solutions. Much of how trenchless, non-excavation repairs can benefit your home pipe lines is in the innovative processes that make them work.
Preliminary Inspection to Determine Your Options
Before deciding what trenchless options are right for you, or even understanding how cured-in-place pipes can benefit your home water lines, you'll want to have a local plumbing expert inspect and diagnose damages to your pipe.
Using high-grade video inspection "snaking" tools, plumbing specialists in your area can give professional, exact insights to your home pipe system woes; these insights can be used to determine what trenchless repair option is ideal for your home pipe system.
Among these options are:
Full water line/pipe relining; the physical relining of inner pipe walls and compromised pipe systems
Sectional point repair; cured-in-place lining for smaller, segmented or localized pipe damages
Manhole to manhole lining; CIPP lining solutions for municipal sewage systems and water lines
Pipe bursting; the full destruction of extensively damaged pipes, using innovative bursting heads and pipe fragmenting techniques
Trenchless Installation Only Takes Hours to Complete
What make trenchless technologies so lucrative for homeowners with home pipe damages are largely the processes by which they are implemented. Trenchless repairs can be completed in just a matter of hours, using high grade, epoxy-resin Perma-liners and ground boring tools.
Following a thorough pipe inspection and diagnosis of damages to your plumbing systems, experienced trenchless technicians will create small entry holes to reach damaged pipe sections and apply epoxy-resin liners. Through these points, technicians will feed the Perma-liner resins into your damaged pipe systems, and physically cure the liner to inner pipe walls using form-fitting air bladders. In doing so, specialists can create tight, smooth sealant over a variety of pipe wall conditions.
The combination of resin liners and air bladder application make these solutions practical for virtually any kind of pipe damage, including:
Cracking, fissures and breakage caused by the elements
Intrusion by plant roots and subterranean animal activity
Shifting soil
Faulty installation, especially at critical joints
Corrosion or deterioration with time
Once lined and pressured against inner pipe walls, these resins cure in a short matter of hours, after which air bladders are removed and entry points sealed. Using cured-in-place pipe, technicians can essentially create resin replacement pipes within existing systems, which can serve functionally for decades and decades to come.
For more about trenchless technologies and pipe bursting, click here.
What Trenchless Repairs Mean for You
As CIPP technologies can be used to cure any kind of severe pipe damage, with efficiency unmatched by other repair methods, these solutions offer far greater value than any other pipe renovation technique. Typically, trenchless repairs can be fully completed in a single day, which limits the extraneous overhead labor costs associated with conventional pipe repair methods.
This is, of course, in addition to the other savings homeowners can see in remedial landscaping and material consumption. Even though trenchless, cured-in-place repairs can be fully cured in a single day, that doesn't mean their structural quality or integrity is any less than traditional, dated repair techniques. In fact, trenchless repair pipes are guaranteed to work functionally for over 50 years; this gives homeowners not only quick solutions for their home pipe damages, but also peace of mind for decades to come.
The benefits of trenchless technologies go far beyond financial savings, too; they are also the safest form of pipe repair, and almost entirely eliminate exposure risks for both laborers working on your pipes and your family. Traditional, trenching pipe repairs pose serious health risks in the form of harmful mold and asbestos exposure. By removing digging from the repair equation, you avoid these circumstances altogether.
When looking into trenchless repair options in your area, always choose a local, community-based pipe expert. Local, area professionals know the ins-and-outs of plumbing systems in your city, and can better help you manage pipe damages that may be unique to your community. In the Sacramento area, those local specialists are Express Sewer & Drain.
Topics: Trenchless Technology