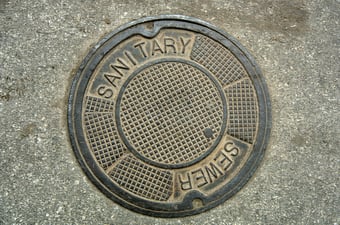 The process of fixing municipal sewer pipes can be complicated. Given that there are so many aspects that can affect the process of repairing sewer lines, there is no golden rule for pricing a standard municipal sewer pipe lining repair project.
Sewer repair prices change on a case-by-case basis, as do the techniques used to repair pipe lines in the first place.
Let's dive into all you need to know about municipal sewer pipe lining and associated costs for these kinds of projects in California.
What Is Municipal Sewer Pipe Lining?
Municipal sewer pipe lining is an effective and cost-efficient solution for repairing damaged sewer pipes without the need for excavation. This trenchless sewer line technology is a relatively new development in sewer line repair that has quickly become popular with homeowners and municipalities alike.
The process of pipe lining, also known as cured-in-place pipe (CIPP), is a great solution for municipal sewers, from smaller laterals to city mains. For municipal sewer repairs, pipe lining technicians access sewer pipes through manholes and rehabilitate them underground with minimal equipment and impact.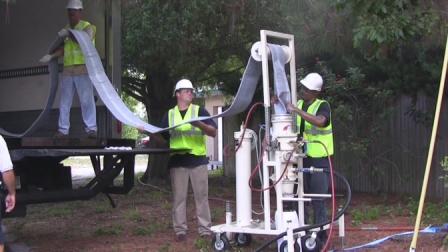 Roads typically do not have to be closed, and if they do, it's only for a very short period of time, so disruption is minimal for the community. But that's one of the many advantages of repairing sewer systems with pipe lining.
Benefits of Using Pipe Lining for Municipal Sewer Repairs in California
In California, municipal sewer repair can be difficult and costly. However, with the development of trenchless sewer line technology, there are several pipe repair options for making repairs while staying within budget.
Let's explore the benefits of using pipe lining for sewer repairs.
With Trenchless Sewer Repair, You're Not Damaging Property
With traditional pipe repair methods of fixing municipal sewer pipes, plumbers need to dig up old pipes and replace them. This can cost roughly $50 to $250 per foot, resulting in roughly $3,000 to $6,000 for small jobs, and $5,000 to $13,000 for repairs over 50 feet.
What drives the cost up even more is the road closures, longer labor hours, and any landscaping that may be required to clean up damaged yards. Using trenchless technology can help residential and commercial properties maintain healthy landscaping.
Trenchless Sewer Repair is Resistant to Environmental Elements and Degradation
Trenchless plumbing is better for the environment because it doesn't require digging up old pipes and replacing them. This means less negative impacts on the surrounding areas.
What's more, the polyethylene pipes are designed to prevent damage caused by environmental elements, like tree roots. And the epoxy used in pipe lining stands up to degradation, lasting anywhere from 30 to 50 years. This helps keep your sewer system working properly for a longer time.
Renovation Times Are Shorter Than Traditional Repair Methods
Instead of digging up the pipe in traditional pipe repair methods, which can be very time consuming, trenchless plumbing is a much easier process.
As noted, the steps involved with manhole-to-manhole lining works exactly like it sounds — using existing manhole entry points, trenchless lining experts can reline damaged sewer lines from within. This means that large-scale projects that would otherwise cost a city millions of dollars can be done for thousands.

Lining of a single sewer line is typically completed in a single day, over the course of several hours as the epoxy resin liner materials cure in-place, hence the industry term, "cured-in-place pipe," or CIPP. This cuts overall project time and cost in one fell swoop, and helps municipal decision-makers avoid road closures entirely during renovations.
Unless the damaged lines in question are collapsed, trenchless lining can restore pipes affected by almost any kind of damage. This includes common problems like leaking joints, intrusion and cracked pipe, as well as more severe issues, such as clogging caused by health products, "flushable wipes," and paper products.
Sewer Repair That Is Cost Effective and Can Last for Decades
Generally speaking, the biggest savings of trenchless manhole-to-manhole lining isn't in the technology itself, but in the process complications it helps municipalities avoid. Once lined, new sewer walls will retain their structural integrity for well over 50 years of standard use.
The cured-in-place sewer lines perform just as well as concrete sewer lines, and in many cases are much more durable; with no joints or connections (curing results with a single-bodied pipe segment), CIPP pipe lines overcome the weaknesses of many standard sewer pipe materials.
How Much Does Sewer Pipe Lining Cost in California?
This is a tough question to answer when you consider all the variables that impact sewer lining for municipalities. While home sewer main repairs will typically cost between $1,000 and $5,000, a single municipal sewer repair project can end up costing many times these figures, based on pipe length and damage.
Cities with outdated sewer systems — those that warrant an entire system update — can be faced with hundreds of millions of dollars, if not more, in total repair costs.
Unfortunately for cities in these circumstances, replacement isn't an option — it's a requirement. Otherwise further sewer damage and expensive upkeep are sure to follow. Replacing an entire municipal sewer system on the verge of collapse could cost well beyond $2 billion with traditional trenching methods.
Sewer Line Trenching Alternatives
This is why it's favorable to look into alternatives to sewer line trenching. As many sewer lines run beneath sidewalks, streets, and buildings, excavating a damaged sewer line can be extremely costly, and sometimes even impossible. This is trenchless pipe lining's strong suit: restoring sewer pipe lining that cannot be affordably dug out and manually replaced.
A typical municipal sewer lining project will cost several thousand dollars per line, resulting in several hundred thousand dollars for total sewer line projects.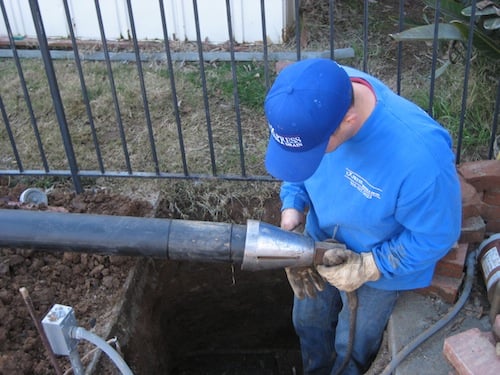 Pipe Repair Cost Example
For example, the Express Sewer & Drain team is proud to be a leading municipal plumbing organization. Our team of sewer repair contractors is comprised of licensed professionals and provides a variety of municipal plumbing services in the Sacramento area.
One of our most notable sewer lining projects we completed cost an estimated $600,000 total. While that is certainly no small cost, these types of lining projects are much more affordable than the alternative. The technologies we use in lining cost more upfront than those used in trenching, but the landscaping, downtime, and labor associated with traditional replacement are entirely avoided.
That's a great example showing how many factors impact the final cost of your municipal sewer repair or relining project.
Factors That Affect Costs of Municipal Pipe Repairs
Some of the most impactful factors that influence cost include the following:
The age of the sewer

The location of the pipes being repaired

The extent of damage that occurred

The method of repair
Additional Cost Considerations for Sewer Line Repair
These are the most common considerations, but it's easy to overlook additional cost drivers in the context of sewer pipe repairs. You also need to consider:
Repairing the damage to structures that were affected by broken pipes

Costs associated with removing corrosion and build up that the plumbing team finds

The cost of pipe inspections and other ancillary services

The cost of

lateral reinstatement cutting

to open lateral lines in the newly cured pipes
How to Find a Trenchless Sewer Repair Contractor in Sacramento County
When you're looking for sewer pipe lining options for municipal repair projects, you need a sewer repair team you can trust. Express Sewer & Drain has been providing municipal plumbing services in Sacramento and surrounding areas for years.
We proudly serve municipal clients in many surrounding areas, including:
Our trenchless technology solutions are ideal for sewer line repairs. Reach out to our experts now to get started on your sewer pipe lining project now.
Topics: Municipal Plumbing, Manhole Rehabilitation, Sewers