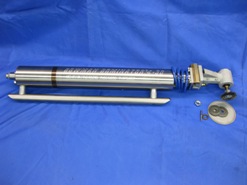 Underground pipes endure a great deal of wear and tear over time. In addition to the strain of normal use, they can be damaged by clogs, corrosion, shifting soil, or tree roots. Eventually, most pipes need to be repaired or replaced. The only option for such a project used to involve digging up the pipe, which caused extensive damage to landscaping, driveways, and sidewalks.
Fortunately, today there are plenty of trenchless technology solutions for pipe replacement that allow homeowners to repair their damaged sewer lines with minimal disruption and very little digging. For many municipal projects, cured-in-place piping (CIPP) is an ideal choice from a cost, effectiveness, and speed standpoint. The last step of any municipal CIPP project involves a sophisticated technique called lateral reinstatement cutting. To understand what it is, however, it helps to know what's involved with the installation of CIPP.
What Is Cured-in-Place Piping?
As a trenchless technology solution, CIPP essentially installs a completely new pipe without any joints or seams inside an existing pipe. It can be used on water, sewer, gas, or chemical pipelines. The technique involves a polyester tube that is saturated in resin and then pulled through the damaged pipe section. Once pulled through, the resin cures to cause the new pipe to fit tightly against the original piping, creating a brand new, seamless length of pipe inside.
What is Lateral Reinstatement?
When CIPP is used to repair a municipal sewer line, the new pipe cures against the surface of the original sewer pipe and blocks off the lateral lines running to the homes that tie into the sewer system. Once the new pipe cures, openings need to be cut in the new pipe to allow wastewater to flow from the home lateral lines into the sewer.
In the early days of trenchless pipe repair, this was one of the most difficult and time-consuming steps involved in any project. Pipe sections were often shorter, with pre-cut lateral lines, but lining technology eventually advanced to the point where seamless piping became far easier to install. In the 1980s, the first remote-controlled, robotic reinstatement cutters hit the market. These devices were snaked down the original pipe and the cable was marked to indicate the location of each lateral opening.
Today, lateral reinstatement cutter technology incorporates sophisticated "pan and scan" CCTV cameras that allow plumbing professionals to identify exactly where and what they're cutting when it comes time to open up lateral lines in the newly cured pipe.
Lateral Reinstatement Cutters
Robotic lateral reinstatement cutters are deployed by highly skilled operators to complete a trenchless pipe replacement project. These remote-operated, waterproof devices are inserted into new lengths of cured piping and moved to the rough position of the pre-existing laterals. A CCTV camera is used to identify a slight bulge where the lateral opening is located, and the robotic cutter cuts a hole in the new pipe with a router bit. Once every lateral line is opened to allow wastewater to flow back into the line, the cutter is removed and then reinserted with a wire brush attachment to file down the polyurethane to fully open the lateral line.
For more than 25 years, Bowman Tool Company & Systems has been an industry leader in lateral reinstatement technology. The Dominator 430 is the latest in the company's long line of reliable, cost-effective lateral reinstatement cutters. Express Sewer & Drain is proud to use these devices exclusively to deliver the best possible trenchless pipe replacement services in the Sacramento area.
The Bowman Dominator 430 is a 72-pound cutter designed for 6 to 30-inch pipes. It incorporates many design innovations:
A 2.5 hp geared air motor that reduces reinstatement time by 80 percent.
Only eight moving parts, which allows for 30-minute disassembly & reassembly.
An isolated electric motor in a watertight chamber to eliminate water damage and permit easy access.
A quick-change head assembly with one adjustable gib to reduce adjustment time.
No external air tube, which gives the cutter an easy-to-operate & streamlined design.
Other Trenchless Technologies We Offer
Express Sewer & Drain is the Sacramento area's leading authority in trenchless technology solutions. In addition to lateral lining and reinstatement, we also offer sectional point repair, the reparation of a section of a broken pipe, pipe bursting, the act of breaking the original pipe as the new pipe slides through continuously, and manhole-to-manhole lining, which can completely rehabilitate deteriorating sewer lines in municipal sewage systems (we also offer manhole rehabilitation services using Sprayroq's SprayWall structural polyurethane spray). Our service is efficient and thorough, and we are prepared to fix any pipe, even water line replacement. Trenchless pipe repairs can last half a lifetime, greatly increasing the service life of existing infrastructure.
Call Us Today
Our efficient and thorough services are available all day, every day, so call any time you need us. We can evaluate your pipes and maintain them before anything major occurs, helping you save both time and money while fixing the pipe that you need fixed. Our technologies are environmentally friendly and quick. We also offer drain cleaning, hydro-jetting, and basic plumbing services. Our experienced professionals are always prepared with their tools and expertise. For more information on trenchless technologies or any of our other services, do not hesitate to contact us today.
Topics: Trenchless Technology, Lateral Lining