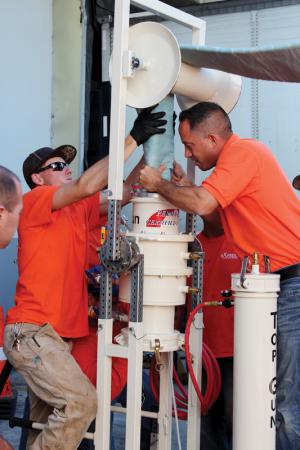 Homeowners can spend thousands of dollars a year carrying for their lawns, landscaping, and other additions to their yards. A broken sewer line can jeopardize all of the hard work that you have put into beautifying your home and property.
Traditional line repair or replacement can further damage your yard by using invasive techniques that disrupt your sod and require that a trench is dug in the affected area(s) of your yard. This could equate to a few feet or hundreds, depending on the size of your lot.
If your prize flower bed, sidewalk, or driveway covers your busted sewer line, it can be disrupted when using traditional repair methods and will require replacement once the job is complete. Keeping your yard healthy throughout a sewer line repair and paying for landscaping renovations after the work is complete can be as costly as the sewer line work itself when making trenched repairs. There is a better way to replace your sewer pipes that will minimize the impact on your yard and property, and that is by going trenchless, Sacramento.
Sewer Line Replacement for a Trenchless Sacramento
Trenchless sewer line replacement does not require backhoes, trenchers, and other heavy equipment to make repairs. The method requires digging one or two small holes in your yard to either pull or push a new sewer line under your yard, leaving your sod, driveway, walkways and landscaping undisturbed. Although the trenchless Sacramento method of sewer line repair and replacement has a higher initial cost than other methods, the benefit of not having to replace your yard, flower beds and other plants still makes it a cost-effective option.
Trenchless Sacramento for a Healthier Yard
Sewage lines can fall into disrepair for a multitude of reasons, including age, poor maintenance, misuse, or by penetration of tree roots that can break or clog pipes. A broken sewer line in your yard may present itself as a soggy spot that has a foul order and is attracting insects. Broken water lines, while making your yard soggy, will not typically emit an odor.
Sewage backups can occasionally happen in a home. But when sinks, toilets, tubs and showers continually back up and flow sewage onto your home's floors, it can be an indication that you have a bigger problem than a clogged pipe.
A clogged sewer pipe will need your immediate attention, and you have the option of helping Sacramento become trenchless when you have to make a choice about replacing and repairing sewer pipes. It is the only method of sewer line repair and replacement that will not leave your yard devastated when the job is complete. For a healthy yard and a more attractive community, contributing to a trenchless Sacramento is the best method for replacing or repairing your sewer lines.
New Technology for an Old Problem
Over the years, plumbers and developers of their products have found better ways to replace sewer lines. By using equipment that allows them to replace pipes without digging up your yard, trained technicians can perform most repair or replacement jobs in one day.
There is multiple methods for trenchless Sacramento sewer line repairs, including cured-in-place pipe (CIPP) lining and pipe bursting. Our professional technicians can determine which method will work best for your home and situation.
CIPP is a cloth liner that is permeated with resin and is used to reinforce existing pipes to repair cracks, gaps, and other issues. After installation, the liner sets in place, resulting in a jointless, smooth pipe that carries wastewater away with little effort.
Pipe bursting involves destroying the existing broken or faulty pipe and replacing it with a new one.
Preventative Maintenance for a Healthy Yard
Knowing the condition of your sewer lines can prevent an event that may ruin your carefully maintained yard. An inspection from the professionals at Express Sewer & Drain will let you know whether your sewer lines need to be repaired or replaced before your yard turns into a stinking, mushy pond. Our modern techniques allow us to peer through your pipes with CCTV (closed circuit television) to view their condition without digging up your manicured lawn.
Contact us today for a free estimate and let us help you keep your yard trenchless, Sacramento.
Topics: Plumbing in Sacramento, Trenchless Technology, Home Plumbing, New Homeowners