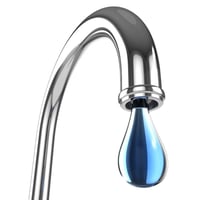 Commercial property owners in California will be ringing in the New Year with something more than fireworks for 2019: new water-saving fixture standards.
With the new regulations going into effect soon, many landlords are rightly wondering if inspection officials will come knocking to demand extensive renovations of existing properties. Fortunately, the changes aren't quite as sweeping or intrusive as they might initially sound.
California Leads the Nation in Water Saving Standards
Based upon requirements laid out in state legislation from 2009, the new conservation standards went into effect for single-family homes in 2017. Starting on January 1, 2019, however, the law will extend to commercial and multifamily buildings. While previous regulations have applied specifically to new construction and renovation, these provisions are unique in that they apply to any existing plumbing fixtures in buildings built before 1994.
California has spent most of the 21st century in the grip of a devastating drought that's estimated to have cost almost $3 billion in agriculture losses alone. In response to the crisis, the state has steadily implemented stricter water conservation regulations, often setting standards that other states, such as Texas and Georgia, now follow.
Water efficiency efforts from the mid-1990s focused on fixture manufacturers, requiring their products to meet increasingly stringent efficiency guidelines. In 2009, however, the focus shifted to both residential and commercial property owners. The provisions rolled out over several years, requiring all renovated homes to install compliant fixtures in 2014 and requiring all non-compliant fixtures to be replaced in 2017. Water saving standards tightened again in 2015, and in 2019 all commercial and multifamily property owners will be required replace non-compliant fixtures in pre-1994 buildings.
The New Compliance Standards
So what are the current water efficiency regulations? The California Energy Commission approved the following standards in 2015:
Lavatory Faucets: 1.2 GPM (Gallons Per Minute)

Kitchen Faucets: 1.8 GPM with the "momentary" ability to increase to 2.2 GPM

Showerheads: 2.0 GPM (dropping to 1.8 GPM on July 1, 2018)

Toilets: 1.28 GPF (Gallons Per Flush)

Urinals: 0.125 GPF
Once implemented fully, the new regulations are expected to save as much as 105 billion gallons each year. For a state that uses around 440 billion gallons of water annually, that's no small savings!
How Do the New Standards Affect You?
While the law does not stipulate any fines or penalties for non-compliance, property owners are legally required to disclose to prospective buyers that a building's fixtures do not meet standards. Non-compliance, then, could severely limit the potential value of a property if no buyer is willing to foot the renovation costs.
So how do you know if your fixtures comply with California's standards? The good news is that if the property in question was built after 1994, the law doesn't require them to be replaced unless you're having renovations done. Even in the case of pre-1994 buildings, if you've had any renovations done within the last ten years, new fixtures were almost certainly installed. Since 2014, any renovations to commercial or multifamily properties that increased floor area by 10 percent or cost more than $150,000 were required to replace all non-compliant fixtures in order to obtain a final occupancy permit.
Furthermore, most fixtures manufactured after the mid-1990s comply with the strictest water efficiency regulations (with California leading the way). Since 2006, the Environmental Protection Agency's WaterSense program has labeled products that meet national water conservation standards to help consumers comply with local requirements. If you're not sure about your fixture's performance, look for the WaterSense label or find the model number online.
More Questions?
Still not sure if your commercial or multifamily property is in compliance? Contact an experienced California plumbing contractor for that added peace of mind before the new regulations go into effect in 2019.