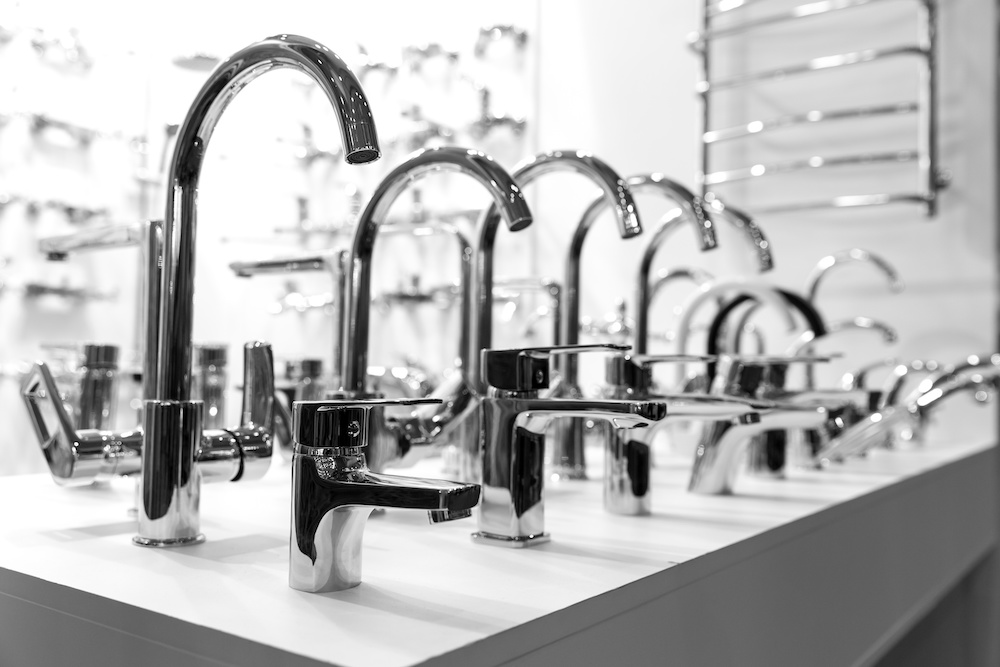 In some of our previous articles, we've gone into depth on the most efficient water heaters and toilets currently on the market, which homeowners can install to reduce their monthly water bill and lower their environmental footprint.
However, high-efficiency plumbing options extend beyond toilets; even your conventional sink faucets can be replaced with eco-friendly alternative models, and help you cut back on unnecessary water spending and use.
Home faucets can account for as much as 15% of standard indoor water consumption; they're a major component of your average water bill, and not something you should overlook.
As reported by the U.S. EPA, replacing existing, low-efficiency faucets with WaterSense-labeled models can save as much as 700 gallons of water per year, based on average family size and use. With lower water use comes decreased water heater demand, resulting in even further energy savings. Even WaterSense approved aerators can save hundreds of gallons of water throughout the product's lifetime.
All WaterSense-labeled faucet models feature maximum flow rates of 1.5 gallons per minute (gpm), compared to the 2.2-2.5 gpm of standard models.
In this article, we discuss the best of the best; high-efficiency faucets you can install to lower water consumption at the most affordable investment cost. But first, we'll talk about your options.
Most Popular Types of Water Efficient Faucets
Pull-down Faucet
Currently, one of the most popular styles due to its convenience, the pull down faucet features a goose neck design where you can pull out the spout's snaked hose. It offers a great deal of accessibility to corners and reaching into pots when the pile of dishes gets too high. Along with being pretty fashionable, it's also best fitted to the deeper sinks that are popular in more modern kitchen designs.
Pull-out Faucet
For more hollow, smaller sinks, the pull-out faucet allows you to detach the faucet's head entirely. You still get the reach of the pull-down with the snaked hose, but you have more maneuverability with this design. Basically, you can control the stream of the shower, offering much less splashback. There's a pretty wide variety of designs for this faucet as well.
Single-handle Faucet
Perhaps the most common faucet style, it consists of a basic tap with a handle on a ball joint that you push up and down. It's a lot less compliant to reaching the far corners of the sink, but its straightforward design makes it easy to install and repair. The choice of a single lever allows for a solid selection of water temperatures, but it does make the time spent to change a little longer.
Double-handle faucet
The double-handle faucet is the more "vintage" look with dual controls for water temperature. This saves both water and time when alternating between hot and cold, but, depending on the design of the faucet head, you run into the same problem of reach as the single-handle faucet. More often than not, you can find designs that combine a pull-down or pull-out tap to the double-handle connections.
Hands-free Faucet
This cutting edge design is the most expensive of the bunch. Using a motion sensor built into the faucet, water is turned on and off automatically when a hand is present and not, respectively. They're extremely convenient, saving time in clean up and offering fewer contamination opportunities. But it can make filling a pot a bit more of a chore since you have to be present to keep the tap flowing. Repair can be costly and difficult, requiring more parts than the other types.
The Best Water Efficient Faucets of 2019
Delta Kitchen Faucets
Indiana-based Delta Faucet Company takes great pride as an innovator in the faucet industry and manufacturer of WaterSense-qualified products. Delta faucets are preferred by many for their various styles and affordability.
Notable WaterSense-labeled Delta faucets include:
KOHLER Faucets
The KOHLER name has become synonymous with bathroom and kitchen plumbing excellence. With 50 manufacturing facilities spread across six continents, KOHLER builds everything from bathtubs to bar sinks - including high-efficiency, WaterSense certified faucets.
KOHLER faucets come at a wide range of prices, largely due to the sheer size of the company and scope of their products. Some faucet manufacturers may offer 20-30 different faucet models to choose from. KOHLER offers several hundred, each with their own accessories and features.
Some of the most popular KOHLER faucet models (WaterSense certified, of course) are:
Pfister High-Efficiency Faucets
Pfister is another industry leader in high-efficiency faucet production and offers affordable WaterSense models for any budget. For instance, the very popular Pfizer Selia Single-Hole faucet, which comes with a never leak guarantee and WaterSense certification, can be bought from some retailers for as little as $79.00.
Other WaterSense-labeled Pfizer faucets include:
Moen Faucet Models
Moen, like Pfister and KOHLER, offers a variety of center set and widespread faucet models meeting the WaterSense qualification. Moen faucets also come in a very broad range of styles, from sleek, modern designs to traditional, bronze faucet styles. Above all, the brand's focus on functionality is what sets these products apart from competitor models. Moen high-efficiency faucets work for years, and they work well.
Some of the most popular Moen faucet models, bearing WaterSense certification, include:
When looking into water-efficient faucets for your home, the WaterSense label is a must. All other features and accessories are up to preference, your budget and what you want to get out of your new faucet.
Topics: Home Plumbing