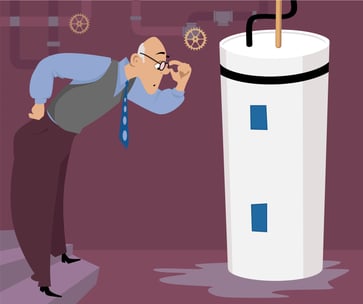 Water heaters are one of the most underrated plumbing fixtures in people's homes. Think about it; without hot water, showering wouldn't be as relaxing or enjoyable; dishes would be less sanitary; and, your clothes wouldn't be as clean.
Sure, water heaters may not be your main source of water supply, but they do make living a comfortable and healthy lifestyle much easier. So don't get stranded without hot water or let a broken water heater ruin your day—be proactive!
3 Signs Your Water Heater is on the Fritz!
The following are a few signs that your water heater is on the fritz.
1. Faulty Water
If you're experiencing poor water quality, such as cloudy, smelly, rusty or cold water, then chances are your water heater is on the fritz.
Whether you have a traditional, gas or electric water heater, the continual heating is likely to wear over time and can cause an insufficient amount of hot water and possible leaking to occur resulting in you purchasing a new water heater.
2. Puddles in the Wrong Place
This sign may seem rather obvious, but if you have a puddle of water pooling around your water heater, chances are you need to replace it.
Unlike a small leak in a pipeline that can be quickly repaired via trenchless technology, a leaking water heater isn't as easy; it will need to be replaced with a new water heater and quick to avoid any mold or mildew buildup.
3. Rumbling
Noisy water heaters may just be one of the peskiest plumbing problems to have, other than a major water pipeline leak.
The pesky and peculiar noises coming from your water heater are typically caused by two things, including:
Heating elements that are burning out

Built-up sediment that is banging around the tank
In either case, a noisy water heater just won't do and is typically a sign that it's on the fritz. You may not need to replace your water heater if the noise is predominantly due to built-up sediment—you can simply have a professional plumber flush out your water heater and remove the sediment.
However, if it is because the heating elements are burning out, then you'll probably want to start shopping around for a new water heater.
Is Your Water Heater on the Fritz?
If your water heater is on the fritz, you should contact a reputable and experienced plumbing professional who can help get to the root of the problem and get your water heater working again.
Topics: Water Heaters