When excavating or trenching is not considered to be a practical method of installing underground pipes, conduits, or cables, directional boring is utilized. In Sacramento, directional boring is the preferential choice for refurbishing municipal sewers, and the best option when it comes to large industrial projects. This trenchless process is also a reliable procedure for an array of soil jobs and conditions including landscape, in addition to, river and road crossings.
We at Express Sewer and Drain in Sacramento advocate the technologically advanced directional boring technique and its several benefits. We proudly use Ditch Witch drilling rigs, which are ideal for our many water, sewer, and gas pipe rehabilitation jobs.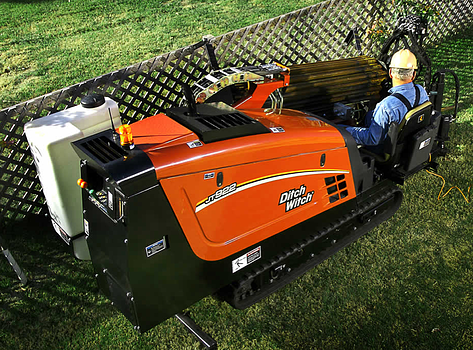 The Directional Boring Process at a Glance
Directionally boring is essentially used when other methods are too costly, or impossible. This can include congested or environmentally sensitive areas. There is thorough use of directional boring in urban areas for developing subsurface utilities. This assists in preventing open cut trenches.
The directional boring process commences with a receiving hole and an entrance pit. For entry, a pilot hole is dug out. The hole is then broadened by a second technique that uses a larger cutting tool. The size of the pipe depends on the reamer's diameter. This diameter is increased by the driller. The size which it is increased is dependant upon the material being cut. In the final step of the directional boring method, the pipe is placed in the widened hole by using a steel drill. Then, it is moved behind the reamer to permit centering of the pipe in it's new position.
Just What Are the Benefits to Directional Boring in Sacramento?
The trenchless method of directional boring lays pipe underground with minimal digging. What does this mean for the customer? A cleaner job, and a pipe with a longer life. The directional boring process is also extremely fast, and the complete task can be completed in a few hours.
Directional boring is cost-efficient as well. This method does not require large crews, or loads of heavy equipment. The process is not as harmful to the environment as most techniques. And because of the small amount of digging, there are less quantities of toxins brought up from the earth.
What is the best benefit of directional boring? Sacramento residents are guaranteed that it will last over 50 years! With the help of Ditch Witch's superior drilling rigs, Express Sewer and Drain offer a broad line of trenchless technology. Combined with our professionalism and expertise, we are the go-to-guys for directional boring in Sacramento! To learn more about our the directional boring revolution, and to see what we can do for you or your business, please contact us today!
Topics: Trenchless Technology