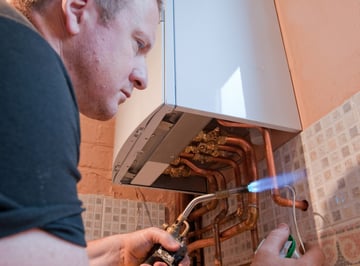 A few years ago, we would have told you that tankless and electric water heaters, which (at the time) required a sizable up-front investment, were only marginally worth buying; they used energy more eficiently, but at the same time cost more than many homeowners were prepared to pay. However, tankless water heaters aren't $1,200+ anymore - brand competition and technical advances have made these systems much more accessible for a range of budgets.
Of course, the more you invest in a tankless water heater, the more features, reliability and support your heater will have. That being said, you get the same basic function out of an economical $300-400 heater as you do from higher performing $800 models.
In this blog article, we discuss how pricing options, various technical capabilities and heater support put some tankless heaters above the rest in terms of overall quality.
Function: Hot Water When You Need It

Tankless hot water heaters give users the exact amount of hot water they need, when they need it. This is true for all tankless heaters, no matter what model or price; it's what makes tankless units so much more efficient and environmentally sound than traditional heater models. With tankless heaters, not a single drop of heated water is wasted, which cuts consumption by around 10-20%, depending on the model - a reduction you'll really be able to see when you receive your first water bill after installation.
Even affordable tankless systems, like the Eccotemp FVI-12-NG Heater ($259.88 on amazon.com), only consume water and electricity/gas (gas, in the case of the Eccotemp model) when in use. By eliminating wasteful activities and high energy consumption from your daily routine, you lower your environmental footprint, as well as any strain on your budget. Ideal for small homes, apartments or condominiums, those in smaller residences should look no further than the Eccotemp system when browsing tankless water heater options.
The Best Electric Water Heater on the Market
Tankless water heaters come in two main categories: those powered by gas and those by electricity. Electric water heater units generally perform more efficiently than gas-powered units, and consume as much as 50% less energy than conventional heater models. The best electric water heater options on the market today (in our professional view) are the Stiebel Eltron Tempra Plus heater line and the Ecosmart ECO 27.
If you've got the funds, any of the Stiebel Eltron electric water heaters (ranging from $552.72 to $799, based on size and need) are by far the best tankless units currently on the market, and certainly worth your consideration. Siebel Eltron models cut back on water consumption by as much as 15-20% in a given month, and can serve entire homes and multiple water flows consecutively.
The Ecosmart, on the other hand, provides all the benefits of an electric water heater (to a somewhat lesser degree than the optimum efficiency Stiebel Eltron model) at a much reduced price. Selling for $495 on amazon.com, the Ecosmart combines high water efficiency with lifetime support - and a price tag that few looking into electric heater options can pass up.
Taken from the product's Amazon listing, "the ECO 27 is capable of heating nearly 3 gallons per minute at this low temperature. To put that into perspective, it can handle up to two showers running at the same time and never run out of hot water. For homes in the southern United States, the ECO 27 is perfect for large Roman-style and Jacuzzi tubs or high demand of hot water between multiple applications. It can handle up to 6 gallons per minute, which means you can run four showers and a sink simultaneously and never run out of hot water. A digital temperature control allows you to set your temperature in increments of 1 degree, so you can set the temperature to how you like it."
Today, there's little reason for homeowners to not make the investment, either on their own to improve water efficiency or to replace aging/broken traditional water heaters.
Topics: Water Heater Repair, Replacement