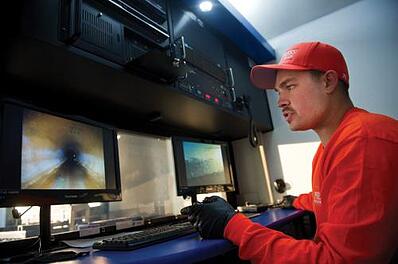 Before trenchless technology processes came about, traditional pipe repairs would take extensive amounts of time and take up huge amounts of money and energy.
In the 1980s, trenchless technologies were developed and have been paving the way for more efficient pipe repairing solutions ever since, such as CIPP.
CIPP, or cured-in-place pipe, is considered one of the most innovative trenchless technologies. It requires minimal digging, which makes pipe repairs less labor intensive and more financially resourceful.
CIPP can line multiple areas of a pipe at once, repairing damages with minimal disruption and digging. Repairing a damaged pipe with CIPP can take a matter of hours, whereas traditional repair can take weeks to complete the job not including the landscaping time.
How does CIPP work?
A beneficial aspect of using trenchless technologies, and CIPP in particular, is that they do not require pipe excavation at all. Before the process begins, a video camera is used to get a visual of where to position and cure the fiberglass pipe segment (or entire pipe, if necessary).
The CIPP repair process starts out with debris and foreign material clearing from the pipeline, which is often done using a high velocity jetter.
An epoxy mixture is then saturated into a fiberglass and felt mat; the mat is then wrapped onto a bladder, which is a "flow-through"- meaning it allows for continual usage of the sewer.
The bladder gets inserted into the sewer pipeline to the exact damaged location(s). From there, the bladder is inflated to the proper pressure level, applying the repair materials to the pipe.
The curing time generally takes between 2-3 hours, after which the bladder is deflated and removed, ending the repair process.
Why CIPP?
The benefits of using CIPP, or trenchless technologies in general, apply for both the plumber and the customer.
It makes damaged pipe repairs affordable and eliminates the need for repaving and landscaping, disrupted traffic, extensive labor and so on.
CIPP lines are guaranteed to last a minimum of 50 years, enabling functional pipes with a longer life span. Installation is also easier on the plumbers, because the liners can be installed without any service interruption in a matter of hours.
With CIPP, contractors don't have to worry about cautiously digging around various utilities to locate the damaged part of the pipe- the part that needs repair- because there is minimal to no digging required.
Using trenchless technologies, such as CIPP plumbing repairs can be completed faster, safer, cheaper and for longer lasting results. As CIPP does not require an extensive amount of digging, if any at all, it also reduces the possibility of exposing asbestos or mold that may have harmful potentials.
If you would like to read more about the benefits of using CIPP, you can click here; or, if you are looking for a professional plumbing service who performs CIPP check out Express Sewer and Drain by clicking here to learn more.