If you have a clog that is obstinate, that repeatedly returns and you've tried everything from plunging to snaking and it still won't go away, it most likely means you have something more serious wrong with your sewer pipes. We understand that sounds a bit ominous, but it doesn't have to be. Many times we see situations which don't require sewer rehabilitation or replacement, but rather a solid, professional cleaning job.
One of the ways we provide this to our many Greater Sacramento-area clients and customers is hydro-jetting. Hydro-jetting is a highly-effective, frequently-utilized method for advanced drain cleaning. We use it because it offers maximum flexibility, a greener solution for cleaning drains and a very affordable one as well. Whether your drain is caused by sediment buildup from things like grease and oil, hair, toothpaste, dirt or your old pipes are scaling, hydro-jetting is one of the most effective means for clearing pipes available.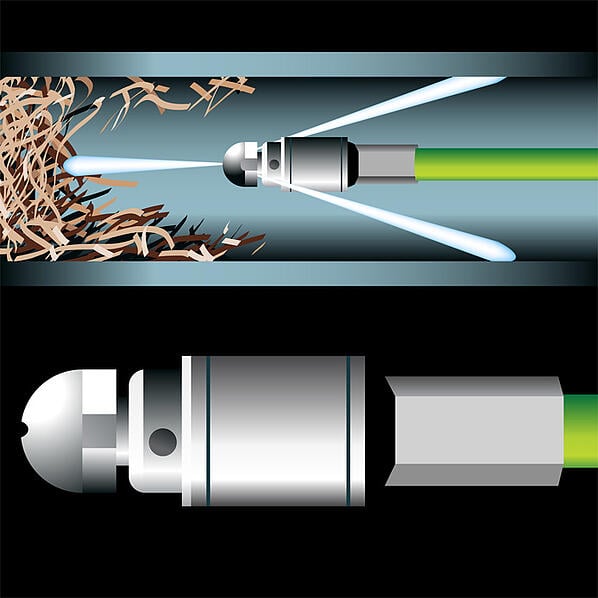 Advantages Of Hydro-Jetting In Sacramento?
So, you're probably asking, what is hydro-jetting exactly and how does it work? It's used in both emergencies and as a recommended preventive step against ever-increasing sewage system decay. In Sacramento, hydro-jetting uses concentrated pressure and high velocity to blast water through your sewer lines, strong-arming any and all obstructions in your piping system. Even notorious culprits of sewage backup like roots don't stand a chance against the focused cleansing power of hydro-jetting. It's so effective it's usually the first method we encourage our customers to clear their blocked sewer lines. It's super-fast and an extremely economical solution.
Hydro-jetting is ideal for residences, businesses, factories, municipalities and government agencies! Call us now to find out more! We can jet from 1 1/2" to 48" in diameter.
To blast away scaling, sediment buildup, hair, grease, oil, toothpaste and even roots!
Fast!
Greener – uses pressurized water as its main mechanism.
Hydro-jetting really is an impressively effective tool against sewer pipe clogs. We usually use it in tandem with sewer video inspection. As you most likely surmised, sewer video inspection for sewers in Sacramento is akin to a surgeon scoping her patient prior to surgery. In fact, it gives our fully-licensed and insured plumbers that kind of insight and certainty. It saves them – and you – time. That means we can get out of your hair fast!
Express Sewer And Drain Endorses Hydro-Jetting In Sacramento As A Valuable Preventive Measure To Save You Money
Just because we hear it all the time doesn't mean it isn't true – time is money. We know this at Express. Our name says it all. When you hire Express Sewer and Drain you hire access to the finest methods and equipment available, the best-trained, fully-licensed and insured plumbers and their years of experience. Hydro-jetting – and with it, video inspection – are just two of the many cutting-edge tools in our arsenal. It's simple. We offer the best to earn your repeat business. And we deliver. We never charge by the hour, and you can contact us anytime for a free consultation. We're just a call or click away.
Topics: Plumbing in Sacramento, Trenchless Technology, Hydro Jetting, Drain Cleaning and Repair