Bookmark this blog! Why? Because it will save you money. If you're head of a city's sewer and water or in charge of making decisions, trenchless technology will save you money. If you're a taxpayer, you'll see the difference appropriations for infrastructure maintenance when the choice is made to go with trenchless sewer repair in Sacramento.
While we have tons of how-to's and informative posts at our Express Sewer & Water blog, lately we've been featuring some of the new equipment we've gotten that will help cities, counties and the state save money, save time and not interrupt commerce, all while implementing greener, more sustainable plumbing solutions. Equipment like our CUES Vans for CCTV for sewer repair and cleaning, our incredible Bowman reinstatement cutters for easier lateral reinstatements and our Top Gun manhole-to-manhole lining system all make a HUGE difference in both affordability and quality for everyone. Please check our previous posts dedicated to each of these to learn more.
November Is International No-Dig Month – And Yes, We're Psyched About It!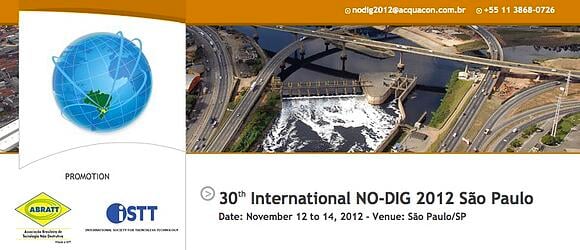 So, after highlighting some of our new equipment (well, okay, yes bragging that we have it because we can be of GREAT service to plumbing contractors), we thought for this post we'd talk about November being International No Dig month. Trenchless sewer repair isn't just happening in Sacramento – it's a global phenomenon. Even in these days of global austerity, municipalities worldwide continue to turn to trenchless sewer repair as the best, most cost-effective means of rehabilitating old municipal, county and state sewage systems.
From 12–14 November 2012, industry professionals from around the world will come together for the 30th International No–Dig conference, to be held in São Paulo, Brazil – a country instigating many major infrastructure projects.
The 2012 conference and exhibition will mark the first time the ISTT's annual event has been hosted in Brazil. With recent investments in infrastructure growing and transforming the country, it is clear why the ISTT chose Brazil to host the largest and most prestigious trenchless event of the year.
President of the Brazil Association for Trenchless Technology (ABRATT) Paulo Dequech says "Trenchless technologies are the only option for building and increasing the underground networks in the country, and this event will solidify this technology here in Brazil." And, as proponents of trenchless sewer repair in Sacramento, we couldn't agree more!
The main theme of the event will be 'Trenchless Town', focusing on ways to install and renew underground services without trenching in urban centers.
Celebrate International No-Dig Month With Us In November By Contracting Express And Saving Money!
There is no doubt about why trenchless technology saves money. Please take a few moments to browse our site and peruse our blog to discover the many benefits of trenchless sewer repair in Sacramento and beyond!
Express Sewer & Water is eager to contract with companies who have landed large municipal, county and state contracts. We have the equipment and expert workmanship you can rely on to turn around the job quickly and perfectly the first time around.
Topics: Trenchless Technology