It all started in 1971 in London, England when a man named Eric Wood had a leaky pipe under his garage. To eliminate the need to dig up his entire garage floor to repair the pipe, Wood invented a cured-in-place pipe lining (CIPP) renovation method. He named the process insit u form, which derives from the Latin meaning "form in place." On January 29, 1975, Wood applied for patent number 4009063, with the patent for cured-in-place pipe lining granted on February 22, 1977. Insituform Technologies commercialized the patent, and brought the technology to the United States shortly thereafter. Since it's inception in 1971, it is estimated that 50,000 km of cured-in-place pipe lining has been installed worldwide!
Cured-In-Place Pipe Lining Is Used In Many Ways
This widely successful trenchless process is currently used around the world to fix deteriorated pipes using minimal environmental disorder. The CIPP method is typically used in gravity lines, which includes storm water lines, process lines, and sanitary sewers. Cured-in-place pipe lining technology can also be utilized in low pressure lines. This includes low pressure process lines and force mains. There is a growing trend for product and process development using the cured-in-place lining in high pressure lines.
Cured-in-place pipe lining is championed by the trenchless technology community because of its advantages. Cured-in-place lining does not need excavation to rehabilitate a leaking or structurally unsound pipeline. An excavation may be made depending upon certain design considerations, but often, the liner can be installed through an existing access point or manhole.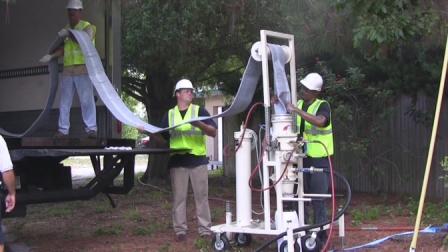 When cured-in-place pipe lining was first created, the process involved pulling an enlarged polyester felt liner into place at an ambient temperature. Eventually, the CIPP technique developed into a heat curing and water inversion process. The cured–in-place pipe lining technique now involves the utilization of thermostat resin. This requires a bag typically compiled of felt and an initiator system that needs ultraviolet light or heat for to work. Currently in North America, more than 95 percent of cured-in place liners need heat for system activation. The ultraviolet light process, however, is relatively new to North America. This UV light process can offer better quality control and performance in general.
What's To Come For CIPP Lining?
There are also more innovations ahead for the cured-in-place lining process that will add improvements to both the economics of the CIPP installation, and product properties. One of these developments involves binding the service connections into the main line. The CIPP service connection (commonly referred to as the lateral connection) has usually been a huge source of infiltration into the main line. Currently, there are new techniques and processes being developed to provide a more secure seal between the main line and service connections.
Cured-in-place pipe lining technology is constantly evolving, and this proven process is guaranteed to become an even better trenchless method. Interested in what the cured-in-place pipe lining revolution can do for you? Then get in touch with Express Sewer and Drain now. We are THE experts in trenchless technology!
Topics: Trenchless Technology, Pipe Lining, Lateral Lining, Pipe Leaks and Repair