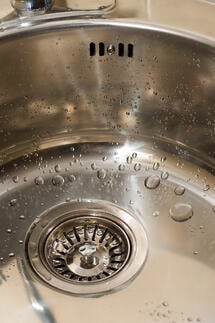 Adverse conditions with your home's drain pipes are cause for frustration in almost all cases… but did you know that with the right tools and preventative maintenance, you can clean your drains like the pros in no time, and avoid any future mishaps? Mishaps that are bound to happen, should you continue poor maintenance behaviors with your drains?
Drain cleaning doesn't have to be an impossible science, and often, the most effective tools for clog clearing are sitting right under your nose, probably in your home already. Where these solutions lie, however, may surprise you. In many cases, it's not the chemical drain cleaners and commercial products that can help you clear your drains, but the at-home remedies and conventional tools you already own.
In this blog, we'll cover 4 simple steps for clearing your drains with professional effectiveness, and give insight into some easy techniques you can use right now to limit your risk of drain clogs in the future.
1.) Identifying the Problem
It should come as no surprise that the first step in improving your home drain cleaning concerns properly diagnosing the common clogs, materials and recurrences in your drain pipes. For instance, if you're experiencing a similar clog in your drain pipe repeatedly, it's likely the result of consistent, poor behaviors, and not mere plumbing coincidence.
It's easiest to diagnose your pipes with running water checks, such as hot water flushes, and by inspecting water fixtures such as faucets and drain curves closely. If possible, there are some effective plumbing tools you can buy, such as drain snakes and auger tools, that make these self-diagnostic processes that much simpler.
2.) Assembling a Plumbing Toolkit
One of the most helpful things you can do when dealing with home drain clogging is gathering effective tools beforehand and creating an anti-clog arsenal, which can often be comprised of tools already in your home.
DIY drain cleaning is made easy with the right tools on hand. However, it should be said that contacting a local plumbing specialist is sometimes the better option, should you not have these tools on hand, or know how to use them properly. For efficient drain cleaning, and even DIY drain component replacements, check your home and toolbox for the following:
Basin and pipe wrenches
Pliers
Hacksaws
Tubing cutters
Metal pliers
Drain augers
Plumbing tools, such as toilet and sink plungers
3.) Chemical Solutions (But Not Chemical Cleaners!)
Along with on-hand tools you may already have in your home, that can effectively eliminate drain clogging and make cleaning your plumbing systems simple, are chemical solutions you likely already have in your pantry. No, we're not talking about commercial cleaners… we're talking homemade mixtures and safe chemical compounds you can create that can efficiently rid your drains of clogging.
Next time you're faced with a clogged drain in your home, try combining one cup of baking soda with one cup of vinegar, mixing these agents together, and running the mixture through affected drains. Follow after one minute with boiling water, and, if done correctly, there's a good chance your drain clog woes will be entirely resolved.
Even if that doesn't work, you can also try an at-home soda cleanse of your drains. The dissolving agents and acidity in soda products can actually break away at clogged materials quite effectively, and flush out materials in a far safer manner than with chemical cleaning products.
4.) Regular Maintenance and Prevention
One of the most helpful drain cleaning tips we can offer is that you provide consistent, regular maintenance on your drain pipes, and practice the best behavior with your drains and garbage disposal (understand what can and cannot be processed in a disposal!). For the best preventative maintenance, we recommend performing self-inspections on your home drain systems monthly, and hiring professional plumbing inspectors once every year. Keeping up with this schedule can help you catch drain problems early on, and limit their effects on your home plumbing.
When using your sink and garbage disposal, being aware of commonly clogged food products can help you avoid serious drain problems altogether. For instance, avoid processing animal bones, food peels and skins, rice, pasta and grease in your garbage disposal, as these are all elements that can clog with great ease, while also ruining your garbage disposal blades.
For DIY drain cleaning applications, it's important to not get in over your head with repairs, as misinformation and poor cleaning practices can actually harm your drains, rather than help them. In these cases, it's best to contact a local plumbing specialist to see to your drain cleaning needs. These professionals can see to all of your drain cleaning problems, and deliver affordable, efficient and long-term results.
To learn more about DIY drain cleaning processes, and what you can do today to limit your risk of serious clogging, contact us right away.
Topics: Drain Cleaning, Commerical Plumbing Drain and Pipe Repair