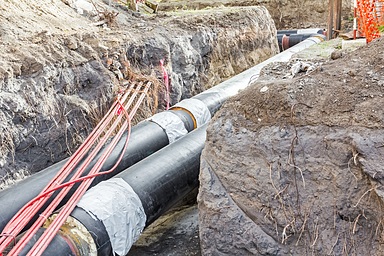 Dealing with major plumbing problems and broken pipe disasters is a huge cause of frustration in almost any case, and this is especially true for homeowners in the Sacramento area. Shifting soils, root penetration, aging pipes and poor configurations can all build up to eventual plumbing emergencies, where determining the cause and finding the right solution can seem like an impossibility.
Unique challenges of your local area make hiring a locally based plumbing service the most effective means of tending to your plumbing needs. But how do you choose among them? What service provides the best solutions for your unique plumbing situation? Not all pipe problems and damages are made the same; they can come originate from any number of sources, which often makes finding the best repairs a challenge in itself.
Fortunately, Express Sewer & Drain makes matters simple for homeowners with Sacramento plumbing problems, by offering affordable and easily installed pipe repair solutions, more practical than any other service in the area. They are able to do this by offering innovative trenchless technology solutions, which are non-invasive and low-cost, yet still highly effective, alternatives to digging repairs.
Using Trenchless to Repair Your Pipes
These pipe repair technologies have quickly become the preferred method of home plumbing renovation in the Sacramento area, largely due to their speed and the quality of their results.
When applying trenchless, cured-in-place solutions to a home pipe, plumbing specialists using these techniques fragment the conventional workload of pipe repair, typically wrapping up in a few hours, as opposed to a few days. This efficiency, as you might surmise, also means real, immediate savings for homeowners, as overhead labor costs and landscaping needs are virtually eliminated from the process.
Trenchless experts are able to do this by erasing physical digging from the repair equation; instead, they can tend to your subterranean pipes from the surface, and coat over any damages using pipe lining techniques.
A Range of Solutions for Any Situation
One of the largest advantages of innovative trenchless repair solutions, beyond clear savings and efficiency, is the range of unique plumbing issues they can resolve. This is done through the various techniques and methods with which specialists can use these tools to mend broken pipe sections.
These techniques, which can all be done in a short matter of hours and at a fraction of the price of invasive trenching repairs, allow Sacramento homeowners to resolve virtually any pipe damages without digging up their yards.
Pipe lining and lateral lining are typically regarded as the "classic" trenchless technologies, making use of epoxy-resins and cured-in-place pipe to physically coat over damaged pipe areas. These are ideal for plumbing systems with moderate damage throughout entire pipe sections, such as corrosion or deterioration with age. Using small entry holes to access your subterranean lining pipes, trenchless specialists applying this technique install a resin coating on inner pipe walls, which cures in a matter of hours to create entire new pipe walls.
Sectional point repair is the trenchless answer to confined or isolated pipe damage, such as cracking or small fissures along pipe joints. Through two small entry and exit openings, experts can apply the same coating as lateral lining in a more direct, localized area, providing a practical trenchless solution for individual sections of pipe.
Manhole-to-manhole lining capitalizes on the versatility of trenchless perma-liners by bringing them to municipal, city and public applications, most commonly in the form of manhole-to-manhole sewer pipe repairs. When brought to municipal pipe systems, trenchless solutions offer full, high quality system repairs with a fraction of the frustration that conventional repairs bring. When using trenchless techniques to resolve city pipe damage, traffic and regular activity won't even have to cease. If there's one thing cured-in-place pipe can offer in every unique application, it's efficiency.
Pipe bursting is a trenchless option best reserved for applications in which repairs become completely impractical; when the only way to deal with a plumbing disaster is by completely replacing existing pipe. Typically, this would require lengthy, lawn damaging excavation and excessive overhead labor costs; this is not the case for trenchless pipe replacements, known as pipe bursting. Using innovative, conical bursting heads to fragment and push away existing pipe, trenchless specialists can fully replace your plumbing systems with entirely new pipe sections in a single day, at a fraction of the cost.
Trenchless technologies serve as far beyond the "quick-fixes" many homeowners regard them as… they provide a long-lasting, affordable alternative to conventional pipe replacement, bringing efficient repairs to virtually any pipe repair application.
To learn more about your options, or to find out what trenchless repair option is best for your unique situation, contact the pros at Express Sewer & Drain today.
Topics: Plumbing in Sacramento, Trenchless Technology, Home Plumbing