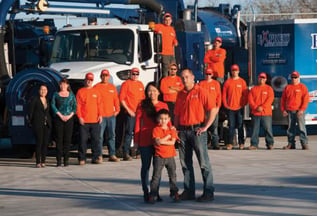 Express Sewer & Drain founder and owner Bill Heinselman has been featured as a writer in Cleaner Magazine's online blog! Heinselman's article, "4 Easy Ways to Provide Excellent Customer Service," details just how important it is to treat customers right, in addition to providing excellent work.
"The best service teams are those that offer more than just great work, but also outstanding customer service. You could do the best work of any contractor in your region, but your business will ultimately fall behind if you don't treat your customers right...

Do you feature FAQs, handy DIY plumbing guides or informative videos on your website? These are great ways to provide added value outside of physical work, while also building rapport with customers. It's a win-win situation for both you and your clients.

Customers shop online when looking for people to service their home or property. A few bad user experiences lead to bad reviews, and bad reviews breed nothing but bad business."
The article goes in-depth into ways companies in any service industry, and plumbing in particular, can offer the best customer experience possible. This includes things such as:
Keeping pricing, workloads and any related fees transparent
Maintaining proper licensing and offering service guarantees for the rare slip-up
Offering services and resources taht extend beyond on-site work
Click here to read the full blog!
Topics: Plumbing in Sacramento