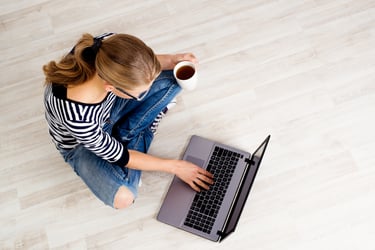 Times are changing mostly, in part, because of advancing technologies and the rise of the Internet. Business models have been adjusting to technologies advancements by trying to make it easier for their customers and new hires to shop and apply to work for them.
Between websites, online stores, and online recruiting, organizations have made it easier than ever for you to make purchases and get hired.
Most of you probably don't remember a time when computers, let alone the internet, didn't exist. That was a simpler time; however, it required more effort from the potential customer and hopeful employee.
Progress
People would have to travel to the store, by foot, car or some sort of transportation, if they wanted to get a peek at and or purchase the latest arrival. Remember, credit cards weren't available either, so your in-store purchasing transactions would have been done through cash or check. Likewise, if you were looking for a job, you would find yourself venturing about to find and employer, and either interview on the spot or fill out a paper application.
As time and technology continued progressing, credit cards and department store catalogs became all the rage. Remember how the larger department stores, such as Sears and JcPenney, used to mail out 300 page catalogs?
When those purchasing methods began phasing out, the option to peruse around and shop online came in. Around that time, online applications became a pretty popular alternative, not only because it saved applicants and managers time, but also because it was a paperless alternative.
Plumbing: Online?
What if a plumbing contractor could repair your plumbing problem through your computer? You could stay within the comfy confines of your dwelling and have your plumbing problems resolved in a cinch through the touch of a finger.
Maybe, that will be available one day with some futuristic technology in the forecast, but for now there is a way to reach out to plumbing contractors without waiting for someone to pick up on the other end of the phone.
You can hire a Sacramento plumbing contractor online. Express Sewer & Drain is a Sacramento plumbing company who is available 24/7. Having invested in a user friendly website, even offering coupons for first time visitors, Express has created a place for troubled homeowners and businesses to find their plumbing solutions online.
From drain cleaning- hydro jetting, general plumbing, water heaters, leaks, sewer repairs, toilet repairs, and free video inspections you can find a solution to any of your current plumbing issues directly on their website.
Or simply pick up the phone and call 916-900-6444 for an immediate response 24/7. Having the convenience of hiring or at least consulting with a professional plumbing service online is a comfort to those who encounter those after hours unexpected emergency situations. You can contact them online for your immediate response today.
Also, if you are a professional in the plumbing industry looking to join the team at Express Sewer & Drain, you can get started now.
An Online Convenience
Online shopping and hiring are the trends of this generation with many shopping platforms, such as:
Amazon

Ebay

Company store websites
You can even order your groceries online and have them shipped to your doorstep or ready for pickup at a time that is most convenient for you. Having the convenience of shopping and applying for employment at your house is both fun and comfortable-- no in-store line hassles, sales associates heckling you to make impulsive purchases, wasting resources to pick up an employment application, etc.
Likewise, you can enjoy the online convenience of hiring, or applying for a position as, a Sacramento plumbing contractor through the comfort of your own home.
Topics: General Plumbing in Sacramento, Sacramento Plumbers and Pipe Repairs, Sacramento plumbers, Sacramento Plumbing Contractors