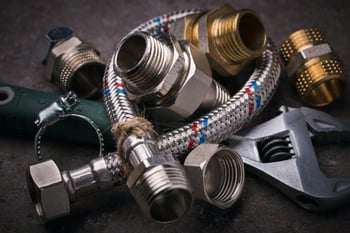 If you're a professional plumber in Sacramento, CA, then you know how heroic Trenchless Technology is for residential, commercial and municipal sewage problems.
It lessens your workload, is eco-friendly for the environment and financially savvy for your customers.
Trenchless technology is the ideal approach to pipe and sewage repair causing less disruption for you, your customers and your customer's neighbors-- it's an all around win-win repair.
As you may know, a few of the many trenchless repair techniques include:
Manhole-To-Manhole Lining

Sectional Point Repair

Pipe Bursting, and

Water Line Replacement
Leaders in the trenchless technology community determine which trenchless repair method is most appropriate based on the condition and the integrity of the damaged sewage system in question which is made visible via video inspection.
How to Care for Your Pipe Bursting Equipment
1. Clean threads and cable integrity
Before ever starting any pipe bursting repair on a sewage system, you should double check that the cables of your pipe bursting equipment are intact.
This way, if there is a damaged cable, the energy connection won't get cut short during the pipe bursting repair process.
You can also reduce, or even prevent, wear and tear on your pipe bursting cables by taking care of the jaw, which is the primary contact point of assembly and keep its threads clean.
2. Lubricate your pipe-grippers
When using pipe bursting technology, the new pipes are pulled and placed into the pre-existing damaged pipeline.
If you don't properly lubricate your pipe gripping system, then you run the risk of losing the pipe being pulled in which defeats the entire repair process.
3. Prepare a proper pit
Make sure that when you are preparing the access pit for your pipe bursting repair that it is well prepared.
If it's not, then you run the risk of the surrounding dirt walls caving in and damaging your pipe bursting equipment.
4. Become routine oriented
Keep a simple maintenance routine for your pipe bursting equipment. You can get in the habit of doing this by giving the equipment a thorough cleaning, greasing all the fittings and connections, and returning the equipment back to its appropriate storage place in the shop after each use.
Why Caring Is Important
Like any well-oiled machine, your trenchless technology equipment has multiple parts which require attention and care.
This doesn't necessarily mean a light rinse down after use; it means handling your machinery and equipment with care during the repair process of pipe bursting and properly cleaning and storing after its use.
Pipe bursting equipment isn't $10 per part-- it's an investment. So, next time you use any of your trenchless technology tools remember to take care of them during and after the job is done.
Topics: Pipe Bursting, Trenchless Technology