Commercial plumbing is subjected to a lot of abuse. Most properties must provide service to dozens, perhaps even hundreds of people, sometimes even around the clock. Whether it's a restaurant putting oil and food waste down sinks, an industrial facility hosing debris and chemicals down floor drains, or a municipal building with busy public restrooms, clogged drains and sewer lines are a big "no."
Fortunately, commercial businesses now have an ideal solution for dealing with and preventing backed-up lines: Hydro-jetting. Commercial hydro-jetting not only clears out blockages effectively but also works as an ideal preventative measure to keep pipes clean and in good working order.
What Is
Commercial
Hydro-Jetting?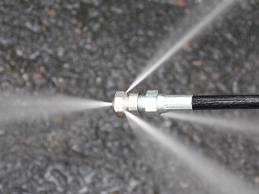 Hydro-jetting is best described as "power washing for your pipes." Hydro-jetting high-pressure drain cleaning involves placing a water hose with a specialized nozzle into clogged pipes to blast water through the line. As the hydro-jet is snaked through the line, forward jets of water break apart any material clogging the line, forcing it through the pipe. Meanwhile, rearward-facing sprays clean up the mess, scraping residual materials away from the sides of the pipe and creating a backwash of water that forces any remaining debris down the line.
Depending on the extent of the clog and the condition of the pipes, hydro-jetting water pressure can be set at up to 60,000 psi (pounds per square inch). Even at a modest level of 1,500 psi, hydro-jetting is powerful (a typical firefighter fire hose, for example, only blasts water at about 300 psi).
Who Needs Commercial Hydro-jetting?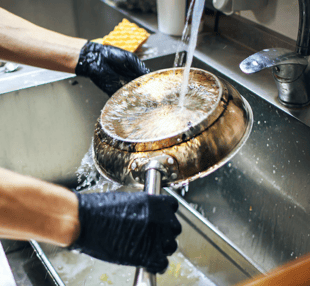 Hydro-jetting is the perfect solution for most clogged pipes at commercial properties. This includes businesses in the food, beverage, or hospitality industry, manufacturing plants, and municipal buildings. Commercial hydro-jetting will clear bothersome food oil and cooking grease, fibrous or expandable food materials, harsh chemicals, and human waste.
Of course, you probably don't think much about your building's plumbing system – until it's too late. With regularly-scheduled hydro-jetting maintenance, savvy commercial property owners can avoid and prevent major plumbing problems.
5 Signs You Need Commercial Hydro-jetting
While hydro-jetting can be scheduled regularly as a preventative measure, there are signs that you may need hydro-jetting sooner than later. Here's our top five.
Slow draining pipes can be a nuisance, or even a disaster! Drains can get progressively slower over time, and while it could be a simple issue like a clogged garbage disposal, it could also be a sign of a larger issue. If you've tried a DIY drain unclogger or have actually tried snaking it yourself with no results, you may need to consider commercial hydro-jetting.
Drains should not scare you by hissing or screeching! Any of these sounds mean that there's unwanted air in the system because of a clogged or blocked vent stack (the pipe that extends from the sewer system to the roof, releasing noxious gases and keeping water pressure moving freely). Hydro-jetting can clean the vent stack and prevent blockage and negative pressure that restricts water and waste flow.
Let's face it, pipes will probably never smell good, but a particularly foul smell can mean that there has been a leak that might be caused by excess pressure from a clog. A clogged drain line that normally forces water and waste out could be clogged, allowing buildup of material that over time begins to smell.
Some commercial properties have older supply lines and drain lines, often built of PVC, copper, cast iron, brass, or steel. While most metal pipes have a lifespan of up to 80 years, some may max out early (Orangeburg piping, for example) and require commercial hydro-jetting to maintain effectiveness.
If you watch your water bill, and there's a sudden increase in cost not attributable to a specific time of year or an increase in customers/visitors, it could mean that something is wrong with your plumbing. Water bills should remain relatively consistent, only increasing for planned events.
Risks of Delaying Commercial Hydro-jetting
As with anything, the longer your wait, the worse a problem can become. Commercial businesses and municipal buildings see far heavier usage than the plumbing found in a typical household. After all, residential plumbing only has to serve the limited needs of the family living in the home. Commercial plumbing, in many instances, has to provide service to dozens, perhaps even hundreds of people, sometimes even around the clock.
Delaying inspection can result in any one of the following:
Serious sewer line clogs causing wastewater to back up into your building
Corrosion of a water heater impacting temperatures
Building damage due to flooding pipelines
Exposure of health hazards to workers or visitors in your building
What Does Commercial Hydro-jetting Consist Of?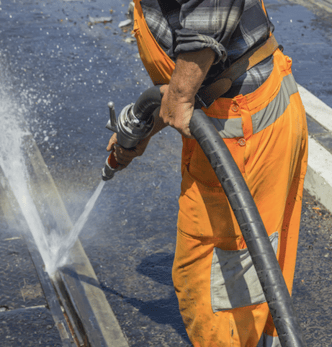 The basic mechanics of hydro-jetting are relatively simple, so the technique can be easily scaled to meet the needs of almost any commercial property. By changing the hydro-jetting equipment used, professional plumbers can remove clogs from pipes anywhere from 1 1/2" to 48" wide.
Although hydro-jetting can be applied to multiple pipe materials, including concrete, steel, cast iron, PVC, and clay, a video inspection is usually performed initially to determine whether or not the pipe has any pre-existing damage. Given the immense power of the water being flushed through the line, the pressure may have to be adjusted to avoid causing damage to weakened sections.
For commercial properties looking for fast and easy methods to address serious clogs, hydro-jetting offers an effective solution at a cost-effective price to resolve the immediate problem and prevent future clogs and pipe damage.
The Cost of Commercial Hydro-jetting in Sacramento County
Hydro-jetting or sewer jetting can be expensive, but its cost far outweighs the risks of not performing the plumbing. Repairs of sewer lines can cost up to $1000, while replacement could cost you upwards of $20,000. So, maintenance is key! A few factors that could impact total costs include:
Access to sewer lines
Level of difficulty
Location
Length of pipe that needs to be repaired or replaced
Cleanup of repair (if needed)
How to Hire the Right Plumbing Company for Commercial Hydro-jetting in Sacramento
Commercial jetting services, whether used for an emergency or as pipe-clogging prevention, has many benefits (it's also great for the environment… it's just water, after all!). So who is right for you? Make sure you hire a company that understands high-pressure plumbing and has hydro-jetting machines that will make the process easy and most affordable.
Get Started with Express Sewer & Drain Commercial Hydro-jetting Service
Plumbing problems happen – sometimes at the worst times. We don't want that to happen to you. We can take care of emergencies, or, by setting up regularly-scheduled commercial hydro-jetting maintenance, we can help prevent future plumbing problems.
Our team consists of drain clog clearing experts with years of experience clearing commercial pipelines. We're also invested in ongoing education for our plumbing experts that put us a step above competitors. We deliver custom levels of service not available anywhere else to the Sacramento area. If we can help you, we'll be there for you. Contact us today.