Hydro-Jetting
Plumbing and pipe backups on commercial properties are never welcome; we understand the frustrations clogs and other problems like these cause for commercial property owners, as well as how costly it can get if not treated by the experts.
We offer full solutions for commercial properties that not only remove clogs, but also prevent them from returning in the future.
What Is
Commercial
Hydro-Jetting?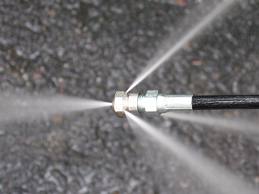 Hydro-jetting is essentially power washing for your plumbing; using concentrated pressure to blast water through your business's clogged drains and sewer lines, we effectively break away any and all debris from within your plumbing.
The jetting application is especially powerful for businesses in the food, beverage or hospitality industries. Hydro-jetting clears troublesome food oil and cooking waste, as well as fibrous or expandable food materials.
Hydro-jetting is usually the first approach we recommend to clear blocked residential pipe lines. It solves the problem almost instantaneously, without disruption or backflow. We can use jetting equipment to remove debris from pipe lines of any size, from 1-1/2" to 48" in diameter.
Regular Maintenance to Keep Pipes Flowing
You probably don't often think about maintaining your building's plumbing system, but setting up regularly-scheduled maintenance can help commercial property owners subvert many major plumbing problems.
Our teams consists of well-trained, drain clog clearing experts. We offer drain and pipe cleaning flexibility you won't find anywhere else, and can deliver custom levels of service for cleaning your building's pipe lines.