For those in charge of Sacramento sewer and water, when it comes time to revamp old infrastructural pipelines, different situations call for different methodologies. At Express Sewer & Drain, we pride ourselves on our flexibility that allows us to meet every demand.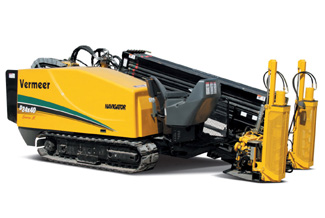 Often, municipal pipeline rehabilitation projects call for specialized equipment. One of those scenarios is directional boring. Like all trenchless technologies, it saves city's both time and money.
Sacramento directional boring is cost-efficient, minimizing crew sizes and a surplus of heavy, carbon-coughing equipment. We use Ditch Witch directional drilling rigs – the best on the market, in tandem with our Perma-Liner trenchless line of products.
Directional boring, like all trenchless products, is a method of laying pipe underground. It requires minimal digging. That means cleaner, longer lasting new pipe lined within the existing pipes.
Directional boring is lightning fast. We can complete jobs in a matter of hours.
Directional boring does not interrupt city traffic. Keep your local small business owners happy by keeping the roads that run in front of their businesses open and freely flowing: just like the new pipe line we install.
Directional boring in Sacramento is greener, not only because of the minimal equipment, but also because it involves little digging. That amounts to less silt and toxins being unearthed.
Directional boring and trenchless municipal plumbing is guaranteed to last over 50 years. Want to impress taxpayers with your savvy and knowledge of infrastructure? Call Express in Sacramento for a complete line of trenchless technology. We're the best, fastest and most knowledgeable team around. You can't go wrong with Express Sewer & Drain.
Equipment For Directional Boring In Sacramento – A Few Technical Details
As we mentioned above, we use Ditch Witch drilling rigs. The equipment used in a horizontal directional drilling hinges on the exterior diameter of the pipe, length of your run, surface conditions and their immediate surroundings. For larger bores, directional drills equipped with as much as 1,000,000 pounds (or more) of thrust/pullback is used in conjunction with a "mud reclaimer," "excavator" and multiple pumps and hoses to supply the drilling fluid to the drillstem. Directional drilling stem is made from heat-treated high-carbon steel for strength and ships in diameters of 3-6 inches. Drill stem sections are manufactured in 10 or 15 and also 30 foot lengths and have male threading on one end, and female on the other. It is common for a directional drill to carry as much as 1000ft of rod on-board. Drilling heads come in multiple designs and depends on the rock or soil being penetrated. The drilling head has multiple water ports to allow removal of material. A talon bit involves the carbide-tipped cutters. These allow for steering and cutting the material. Another head is a mud-motor that is used in rocky landscapes.
In other words, Ditch Witch directional boring is extremely versatile and ideal for multiple municipal sewer, water and gas pipe rehabilitation. It allows us to deliver the very best, most durable product to our municipal partners.
We begin with the receiving hole and entrance pits. The first stage drills a pilot hole on the designed path, and the second stage (reaming) enlarges the hole by passing a larger cutting tool known as the back reamer. We adjust the diameter according, allowing for optimized and efficient results. The final phase of the Sacramento directional drilling process places the product or casing pipe in the enlarged hole by way of the drill stem; it is pulled behind the reamer to allow centering of the pipe in the newly created path.
Results? Outstanding, Durable And Affordable Directional Boring In Sacramento
Impress taxpayers with fast, efficient and affordable state-of-the-art municipal pipelining and rehab with directional boring in Sacramento. Just call us at Express with any questions you might have. We'll evaluate every project for free and offer a free estimate.
Topics: Trenchless Technology