Industrial CCTV Sewer Inspection With CUES Vans
Large sewer rehabilitation projects for municipalities are an ongoing issue. Though citizens may take for granted the infrastructure running just below the soles of their shoes, those who make decisions for a city's sewer and water department are always aware of the challenges of maintaining both affordable and durable sewer and water lines. The solutions aren't always easy. You always have to consider:
Cost
Durability
Interruption To Commerce
Sustainability
Environmental Factors
And Taxpayer Savings
Here at Express Sewer & Drain, we have solutions for contractors who have been awarded large contracts by cities like Sacramento. We have the experienced manpower. We have the knowhow. We're passionate about staying atop industry advances. And boy are we stoked to tell you now that we have CUES Vans for your CCTV Sewer Inspections and repairs.
About CUES Vans: Information For Sewer Contractors
CUES is the world's leading manufacturer of closed circuit television video (CCTV) inspection, rehabilitation, pipe profiling equipment and pipeline inspection and asset management software for sanitary and storm sewers, industrial process lines, and water lines. Long acknowledged as an industry leader on the cutting edge of plumbing research and development, we couldn't be prouder to tell Sacramento plumbing contractors that we will provide you with CUES vans and the men and women who know how to use them for your next big sewer or water pipe contract.
We take pride in what we do here at Express, with the service and knowledge we deliver contractors and with our spotless turnaround and affordability. With Express on your side, you can expect to clear the kind of profit you were aiming for – and do with expertise and results that will have your phone ringing for future contracts.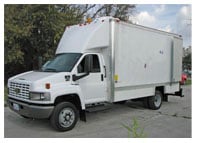 Why do we choose CUES at Express? In a word – they're the BEST. The CUES Engineering Department has proven itself to be the technology leader in the development of state-of-the-art, innovative products. CUES equipment is precision-built to withstand the rugged environment and demands of both the contractor and municipal markets, guaranteeing second-to-none productivity. CUES software and hardware engineers develop, design and support all phases of their products. As a Sacramento sewer contractor, that's peace of mind. And you know how valuable that is when you're busting your butt to secure future contracts. You know your work IS your business card. And what a calling card it will be when Express teams up with you on your next big city project and assists with CCTV sewer inspection. Not to mention, we are known for our expertise utilizing a vast array of Perma-Liner trenchless pipe line rehabilitation products. When paired with our other cutting-edge equipment, you can't go wrong.
One call to Express Means One Call To Success!
Don't risk that high-value contract to companies who have just that ol' fair-to-middlin' equipment of yesterday. At Express, we're committed to bringing municipal contractors the vanguard of plumbing technology they need to impress city customers and grow their business. And our CUES vans are absolutely indispensable for pipeline integrity verification. Whether you've been contracted by a city, a county or by the state – we WILL make your next contract a screaming success!


Topics: Trenchless Technology, Video Sewer Inspection, Sewers