If you're a veteran of our blog, then you probably already know about the many advantages lateral pipe lining presents versus the older, more destructive "dig and replace" methods of last century. If this is your first time here you are in luck, because we will take a closer lookd at the benefits of lateral pipe lining compared to digging and replacing.
What Is A Lateral Line?
A lateral line is the pipe that runs from your residence or other property to the road where it meets the municipal sewage system. It typically runs underneath lawn or landscaping and over time becomes vulnerable to root infiltration, water infiltration, cracks, fissures and other problems that threaten the overall health of the sewage system.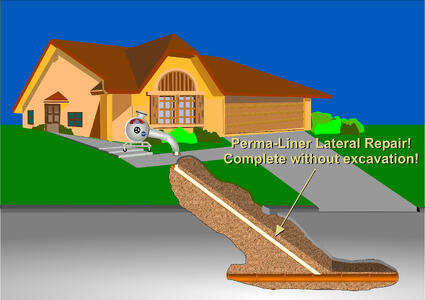 Why Lateral Pipe Lining Is Such A Great Deal
There are actually many reasons why lateral lining is the best thing going today.
Durability – It lasts for over 50 years, guaranteed.
Sustainability – It's easy to maintain and repair down the road.
Greener – All trenchless technologies are designed with the local environment in mind.
Cost-effective – You simply can't beat how affordable lateral lining is.
Extremely fast! – Takes hours to complete complex jobs.
But those are just some of the benefits. Perhaps the most important benefit of lateral lining is that you don't have to dig up your lawn, landscaping or paved areas to access your lateral. That's a pretty big deal. Especially when you consider that all the benefits listed above stem from the fact that lateral pipe lining is non-destructive.
Though there are many manufacturers of trenchless technology today, at Express we stick to the best. That's why we prefer Perma-liner lateral pipe lining products. They're the best. They're guaranteed and we stand behind their performance 100 percent. We believe in lateral pipe lining because we've seen the results and passing on the savings and durability to our customers makes us what we are today.
A Lateral Lining System You Can Trust
Depending on the situation at hand, we might recommend one of several Perma-liner trenchless products to rehabilitate your sewer quickly. Among them are the Perma Lateral System. It's a single access pipe relining system designed to rehabilitate existing building service laterals without the need of extensive digging and liability. That means savings and peace of mind for you. Ideal for service pipelines in diameters from 2" to 8" in less than a day and in most cases less than 3 hours!
Want To Know More?
If you've been experiencing the tell-tale signs of sewer wear like puddling, repeated backups or sewer gas emissions, give us a ring. Or, if you think it's time to upgrade your old sewage system for something sleeker, more cost-effective and efficient, we can help you with that as well. We're just a phone call away, or feel free to leave a comment here at our blog and we'll contact you right away!
Topics: Trenchless Technology, Pipe Lining, Lateral Lining