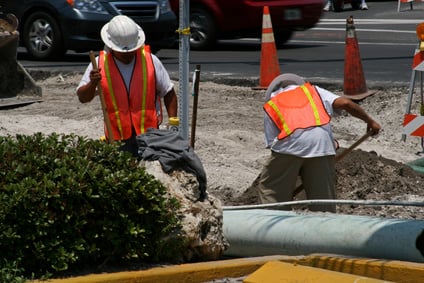 In many of our blog posts as well as our dedicated CCTV webpage we've discussed the many benefits of sewer TV inspection. Just to recap, here are but a few:
Provides our techs with the kind of certainty surgeons get before or during a surgical procedure
Can be digitally recorded for before/after comparisons
Potentially saves a lot of money by pinpointing the exact problem because we may find a cheaper solution
Tells our techs what the issue is, whether it's root infiltration or faulty pipes
Can identify potential problems before they happen
We often get asked about how it works, so we thought we would share that information with you here at our blog.
What Our Sewer TV Cameras Do
Our camera is basically a robot camera with the ability to record as it moves through pipe. Like all of our trenchless solutions, sewer TV inspections are nondestructive. We can typically access any pipe through already existing openings. These cameras are sometimes called "lateral launch cameras" and are capable of being inserted into pipes ranging from 1-1/2" on up to 72" in diameter effectively and efficiently. It's this type of versatility that translates into customer confidence.
Self-propelled cameras can even inspect adjacent sewer laterals up to 80 feet at the same time as they inspect your main sewer line. It's quite an asset to both our expert technicians and to our customers. The cameras are an essential inspection tool for identifying infiltration and inflow, solids accumulation, root infiltration, pipe defects and the structural condition of lateral services and mainline sewers.
Aiding With Sewer Line Penetration
Sometimes accidents happen. Say your cable company is working in your yard or you're having some work done on your irrigation system. It stinks, but your sewer line can get penetrated. With the aid of being able to insert our sewer TV cameras inside your sewer main or any other sewer-related pipe, we will be able to properly identify the extent of the damage and tell you exactly what will need to be done to repair that. It's also a great help when it comes to giving customers accurate estimates.
Other Types Of Sewer TV Cameras
Video cameras have become one of the most valuable tools in the environmental business. Specially made fiber optic cameras allow for a visual inspection of underground sewer lines and other piping to determine the health of the inside of the line. A flexible rod with a high-resolution video camera on its tip is inserted into the pipe for inspection. Video images are transmitted to the camera operator and can be saved onto a videotape or hard drive (depending on the specific equipment at that job site) for a permanent record. Radio transmitters on the camera record the depth and physical location from the surface so that defects and obstructions can be corrected cost effectively.
Sewer TV Cameras Are Valuable For Hazardous Areas
Some confined spaces can be hazardous. This is another instance where Sewer TV cameras are fantastic. We can tell whether or not that confined space poses any potential threat, and our flexible cameras can reach just about anywhere.
No doubt about it, CCTV cameras for sewer pipes and any type of subterranean piping are an indispensable part of any plumbing tool kit.
Topics: Leak Detection, Video Sewer Inspection, Sewers