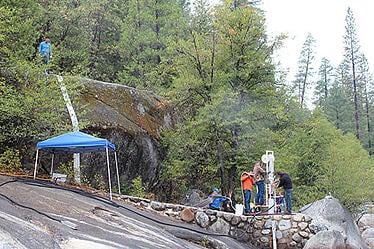 Edit: We've been featured in Cleaner Magazine for this job! Download the article here!
We wanted you to know about a little project that we did fairly recently that might be impressive to you. Everyone knows about the pristine beauty of our national parks, even if you've never been there. We've seen pictures of the Grand Canyon, Yellowstone, and Yosemite National Park. They're exceptional and provide us almost infinite wonder at the sights that our country has to offer us. However, most of you might not think about the fact that even these national parks have services that must be maintained: there are buildings to power, roads to maintain, and yes, plumbing to repair when necessary.
In fact, this very issue happened. Yosemite National Park is host to a private water treatment plant on its south side, which itself provides fresh water to buildings in and around the park. A water main that left from the plant to provide this water had deteriorated. The National Park Service had replaced as much of the line as feasibly possible, but a final problem remained: a section of pipe was encased in 4-foot-thick cement that had river boulders encased in it. In short, it couldn't be ripped up. No contractors really wanted to touch it—it was a difficult and messy job for traditional methods. However, when they called us, we were ready for them.
Trenchless Technology To The Rescue!
The thing that we had going for us is that we were willing to take a risk. Normally, only sewer pipes can be rehabilitated using trenchless technology. Cleaning and ensuring that all of the equipment is sterile for fresh water is so much of a hassle that most contractors won't do it. We were lucky enough to have fresh, unused equipment—a boon to the project. We were also required to use special materials because this was a potable water line. Again, we were lucky to have all of the materials we needed. So, having the ability and the will, we went out into Yosemite National Park with our trenchless technology equipment and attempted the extremely difficult—to great success!
The Difficulty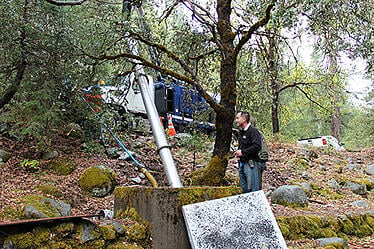 Whereas ripping the pipe out to replace it with another pipe would have disturbed the environment too much, all we needed was our trucks. That, as it turned out, was no small task itself. We were forbidden from cutting down any trees or otherwise disturbing the landscape. We did just that, but only barely. At some points, there was less than an inch clearing on either side of our trucks. We were lucky enough to find the remnants of an old road used for the original installation (which had been built in 1916). But, we eventually made it back to the section of pipe. Once we were there, we worked diligently around trees and other obstacles (as we couldn't cut or move anything) to put the liner into the pipe.
That was another major obstacle. We had to feed the liner through the pipe by hand—all 520 feet of it. It took us two hours and a lot of frustration, but we eventually got it all in there. All of the equipment and gear was a hassle getting to the access point, but we eventually achieved our goal. We lined the entire pipe in two days, ensuring that the water treatment plant could continue doing what it did and continue serving the residents and guests. In fact, all of the people whom that pipeline serviced never noticed a difference while the replacement was going on. We rehabilitated the long pipe against staggering odds without interrupting service to anyone. We were extremely grateful that we could achieve our goals, and we still are.
And, if you need a pipe rehabilitated yourself, remember us. We did rehabilitate that water main in Yosemite (which is no small task), but even if your job is smaller, we take it just as seriously. All of our customers have needs—needs that we hope to meet for you. For a quote or more information, please don't hesitate to call us. We're here for you!
Topics: Trenchless Technology, Pipe Lining, Relined, Inspection