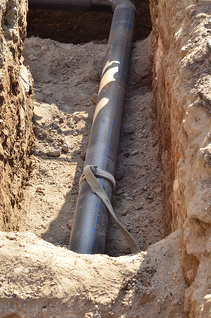 Trenchless technologies are the modern, innovative answer to pipe repair needs large and small. Making use of small entry points to coat damaged, corroding or malfunctioning pipes with high-strength epoxy liners, these solutions cut down on the renovation process in a way that can save homeowners thousands of dollars in the short- and long-term.
For pipe damage or corrosive elements limited to a set area, trenchless sectional point repair is perfectly suited to resolve major plumbing woes, and help homeowners return their pipes to full functionality with ease. The most valuable thing of all about sectional repairs, beyond quick installation and high repair strength, is the great savings potential this method creates.
In this blog, we'll go more in-depth into 7 ways sectional point repair can end up saving you thousands on underground pipe renovation.
1.) Focused Repairs for Focused Pipe Damage
When performing sectional point repairs, trenchless specialists can tend to isolated pipe damage without the need to renovate your entire pipe lines. Trenchless point repair can resolve all pipe issues contained in a single, specific area, offering a more targeted alternative to full trenchless relining.
Using epoxy-resin Perma-liners, such as those created by Interfit USA, trenchless technicians in your area can resolve localized pipe damage in manner much more efficient than traditional repairs.
2.) Innovation to Limit Material Use
During sectional point pipe repairs, trenchless experts eliminate the need for heavy-duty digging equipment and replacement pipe sections. Limited material use, as you could probably assume, also means greatly reduced repair costs at the end of the day.
As sectional point repairs affect and cure over existing plumbing structures, you'll never have to cover the high costs of replacement pipe materials, or costs of tools needed to install them correctly.
3.) Single-Day Application Eliminates Long Hours of Labor
In a vast majority of sectional point repairs, full relining can be completed in a single day; in fact, these innovative renovations can often be done in less than 2 short hours. The most time-consuming part of sectional point repairs is the epoxy resin curing, itself. Once lined, this resin cures in-place and creates entirely new, high-strength pipe walls internally in existing water and sewer lines.
Since this curing can mend broken pipe sections in such short time, long and unnecessary labor hours are avoided entirely, saving you hundreds of dollars in unnecessary worker overhead costs.
4.) Zero Landscaping or Lawn Remediation
Sectional point repairs, and other trenchless repair methods, are referred to as such for their simple application process; by using liquid, epoxy plastics and cured-in-place liners, trenchless professionals tending to your damaged pipes will never have to dig out your pipes, or tear apart your lawn to reach critical areas.
In traditional pipe repair operations, your pipes would have to be accessed manually, through long days of digging and lawn uprooting. Trenchless technologies, such as those used in sectional point repair, eliminate the need for digging altogether; this removes what is often the most expensive component of pipe repair in one, single process.
5.) Repairs Can Be Completed Through Existing Entry Points
One of the best things about trenchless, sectional point repairs is that they can largely be completed through existing entryways, such as drain openings, sewer runoffs or similar points. What this means for those dealing with pipe damage is that even the small, non-invasive entry points typically dug for sectional repairs can be avoided.
In sectional point repairs where pre-existing entry points can be used, there is little need to dig anything at all, saving you extra on equipment and labor for your underground pipe repair.
6.) Quality Results for Decades to Come
Sectional point repair, in addition to the various other types of trenchless technology, offers huge savings beyond the repair process itself in the form of preventative sustainability, particularly for future pipe use and damage.
Once epoxy resins used in these repairs are physically cured in-place, you can expect these sections to perform reliably for well over 50 years to come. Multiple decades worth of high-strength pipe performance, damage prevention and avoided corrosion is an invaluable benefit of sectional point repair.
7.) Trenchless Specialists in Your Local Community
Perhaps best of all, trenchless point repairs can save you hundreds when it's installed by local plumbing experts in your community. These are the pros whose years of technical experience in repairing pipe lines in your city, and in installing trenchless point repairs, allows them to provide the most affordable and thorough sectional renovations.
In Sacramento, those experts are the trained technicians at Express Sewer & Drain. Fully equipped with innovative trenchless pipe lining technologies and Interfit USA liners, we can see to all of your underground pipe repair needs, sectional or otherwise.