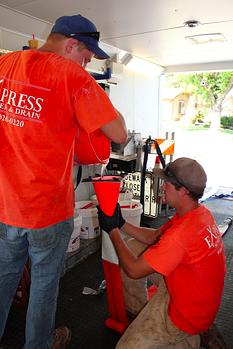 Those in the pipe repair industry regard trenchless lateral lining as the most affordable and non-invasive way to repair damaged underground pipe lines. During these repairs, cured-in-place pipe (CIPP) experts will use epoxy-resin liners to seal over cracks, fissures and broken pipe joints.
This process, which can take as little as 1-2 hours to complete, results in sturdy, single-bodied pipe segments, guaranteed to withstand the elements for decades to come. The most efficient and reliable of these lining solutions are created by Interfit USA, the nationally recognized pros on all matters liquid lining.
At Express Sewer & Drain, we work with Interfit liners every day, in the repair and restoration of severely damaged pipe lines. As these liners cure in-place, within existing pipe walls, there is zero digging necessary to effectively repair pipes. For home and property owners dealing with failing, aged pipe systems, this means fast application and the significant savings that come with it.
How Interfit Liners Repair Pipes in Record Time
Trenchless, liquid-resin liners are applied to damaged pipes internally, typically through existing entry points such as manholes and pipe drains. Once entry points to damaged pipes systems, lines or joints have been established, trenchless repair technicians will coat epoxy-resin liner directly to affected pipe walls, and cure the liner in-place using inflatable air bladders. This pressurization forms a tight, smooth epoxy seal over damaged pipe areas, and results in sturdy replacement pipe sections that are guaranteed to last over 50 years.
The greatest benefit of liquid Interfit liners is their compatibility with a broad variety of pipe types, and ability to renovate virtually any kind of pipe damage. This includes:
Efficient repairs for clay, iron, cement, copper, PVC, Orangeburg or steel pipes
Damage caused by faulty installation
Breakage due to root or animal intrusion
Corrosion and aging
Cracking due to environmental changes
In the past, you would have had to manually excavate damaged or deteriorated pipe segments, and physically replace them with expensive new pipe segments. This outdated process took days, if not longer, to complete, and often resulted in compounded landscaping costs.
Trenchless, lateral pipe liners help home and proper owners avoid these frustrations with single, one-stop pipe repair solutions. Whatever the extent or cause of your pipe damage is, Interfit lining can be used to mend over compromised segments with ease.
Interfit lining is compatible with pipe systems in a broad range of sizes, including pipes with:
Mainline diameters of 6", 8", 10" or 12"
Lateral angles anywhere from 1 to 180 degrees
Lateral diameters of 2" or 6"
Lateral insertion lengths of 2", 12" or 20"
What CIPP and Interfit Lining Mean for You
Interfit liners do more than just seal over damaged pipe areas; they form durable, long-lasting barriers against the elements for years to come, and provide peace of mind for underground pipe performance. With single-bodied, epoxy lining solutions, your new pipe segments will be able to:
Withstand the common hazards to sewer and underground pipe lines, including harmful gases, chemicals and sewage waste
Resist bacteria and corrosive agents that may exist in soil surrounding your pipes
Perform without shrinking or changes due to temperature
Resist common abrasion and wear for underground pipe lines
For homeowners, property owners and municipal sewer workers alike, trenchless lining provides reliable, one-stop pipe repair solutions at a speed and cost that is impossible with conventional, digging methods.
The lining solutions created by Interfit USA make it entirely possible to repair your damaged pipe or sewer segments without digging a single foot of soil. This eliminates the high landscaping and lawn renovation costs of standard pipe repairs. With digging entirely avoided, trenchless technicians can typically fully renovate a damaged pipe in a single sitting. What once took days, if not weeks, can be completed with comparable results in a matter of hours.
For the best results with trenchless, Interfit lining, it's important to act quickly; the longer you wait to restore ailing pipes, the worse their condition may become. With the help of trenchless lining experts, you can fully restore your damaged pipes at a fraction of the cost, time and stress of conventional pipe repair. For more information on what Interfit liners and trenchless technologies can do for your pipe needs, contact the pros at Express Sewer & Drain today.
Topics: Trenchless Technology, Pipe Lining, Pipe Leaks and Repair, Sewers