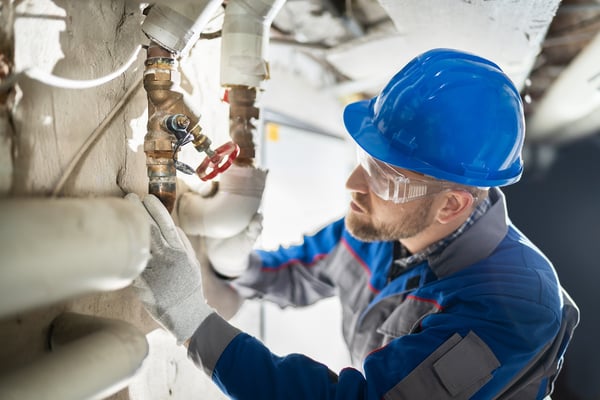 Just like getting a routine oil change for your car, commercial properties need routine maintenance as well. Waiting too long to check the integrity of your plumbing system means there are likely going to be damages that you don't know about, and they will only grow worse as time goes on.
In commercial buildings, there are many people that can be impacted by these plumbing issues. To keep your team safe, it's smart to know what problems to look out for during routine maintenance checks.
The Importance of Plumbing Maintenance in Sacramento
Plumbing systems are part of day-to-day life. Between using the shower at home or washing dishes at a restaurant, the truth is our world relies on plumbing systems. When these systems become damaged, it can risk the health of the people using the sinks in your building or result in harm to the property.
With regular commercial plumbing maintenance, you could be saving money instead of spending thousands of dollars on repair costs. When pipes become damaged or clogged as a result of improper maintenance, you might need emergency repair or replacement services at a moment's notice, which will be costly for any business.
Conducting regular maintenance checks will also extend the lifespan of your plumbing system. By keeping everything in good condition, you will lower the risk of problems popping up and improve overall efficiency. Clean pipes will keep everyone healthy and improve overall water quality. Fewer problems means that the system will last longer than those that are poorly maintained.
Instead of being reactive to problems as they arrive, be proactive and keep everything in order to prevent damages from occurring. The last thing you need is water damage to your property or hefty repair bills piling up. When you know what to look for during your routine maintenance check, you can preserve the integrity of your pipes while keeping everyone in your building comfortable and safe by preventing unwanted damages.
Your Commercial Plumbing Maintenance Checklist
Here's a list of everything you need to consider when examining the plumbing system in your commercial property. Whether you are in a retail store or a corporate office building, all systems should be in good working order for a healthy and happy environment. Even if you're not the person conducting the maintenance check, it's still a good idea to have a running list of things your professional plumber should look out for.
Check Your Water Pressure
Using a gauge, check to make sure that the water pressure in your building is at least 40 psi. Attach your gauge to a faucet and turn the nozzle all the way. As the water runs through the gauge, it will tell you the strength of the water pressure. While it's normal for water pressure to vary from floor to floor if you are in a multi-story building, the pressure should remain between 40 and 80 psi.
Look for Leaks
Looking for signs of active leaks throughout your building should be an essential part of your plumbing maintenance checklist. Keep an eye out for water stains on ceilings or walls, or even puddles near sinks, toilets, and pipes. Mold or mildew buildup is also a strong indicator of leaks that should be addressed immediately.
Assess Your Water Heater
Take a look at your water heater to check for leaks or rust around the outside. It's also smart to flush your water heater every year and replace the anode rod if needed. Make sure the water pressure is also between 40 and 80 psi and that the temperature is not above 120° Fahrenheit to prevent scalding.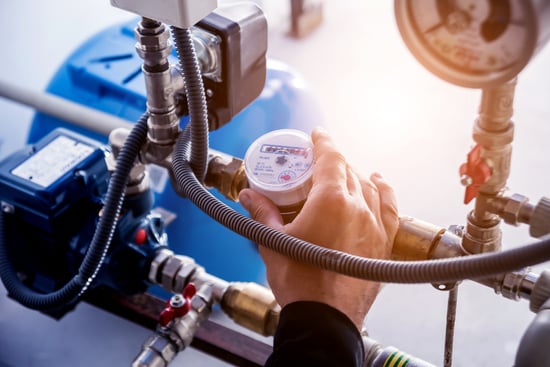 Check for Corrosion
Be sure to check all pipes for signs of corrosion, including rust or any blue or green discoloration. When you check for corrosion, don't forget to also examine faucets for limescale. If left untreated for too long, the corroded pipes could result in a serious leak that will need to be repaired by a professional plumber.
Ensure Valves Are Working
Valves should be in good condition to ensure safe operation in your commercial building. Broken valves can cause severe water damage, so make sure to check that all emergency shut off valves work properly to prevent significant hazards in the future.
Test Your Drains for Blockages
Don't forget to look at all sink and floor drains in bathrooms and kitchens. Blockages can inhibit the flow of water and potentially result in health hazards in commercial bathrooms or restaurant kitchens. All drains should allow for water to move through at a steady rate so there is no pooling or excess moisture. Slow drainage can be a sign of a clogged pipe that will need to be cleared right away.
Use Backflow Prevention Devices
You should be checking the backflow prevention devices once a year in commercial buildings to prevent water containment issues. It is often required to have a backflow preventer in Sacramento County to keep water flowing in a single direction. This will protect offices, medical centers, and other properties from harmful contaminants. Make sure that the device is installed correctly and that there is no debris in the way of the flow of water.
Schedule Your Regular Maintenance Inspection
Now that you have a trusty commercial plumbing maintenance checklist, it's time to put it to use. It's always best to work with a professional plumber when conducting regular inspections. Luckily, Express Sewer & Drain has a team of trusted plumbers in the Sacramento area to ensure the pipes in your building are working as they should.
Our licensed and insured plumbers will know exactly what to look for during routine inspections. In commercial buildings, the plumbing systems are typically more complex than the one in your home. Our team has lots of experience working with these systems, whether it's in a multi-story office space or a small restaurant. To get started, contact Express Sewer right away!
Topics: Plumbing in Sacramento, Commercial Plumbing, Plumbing Tips