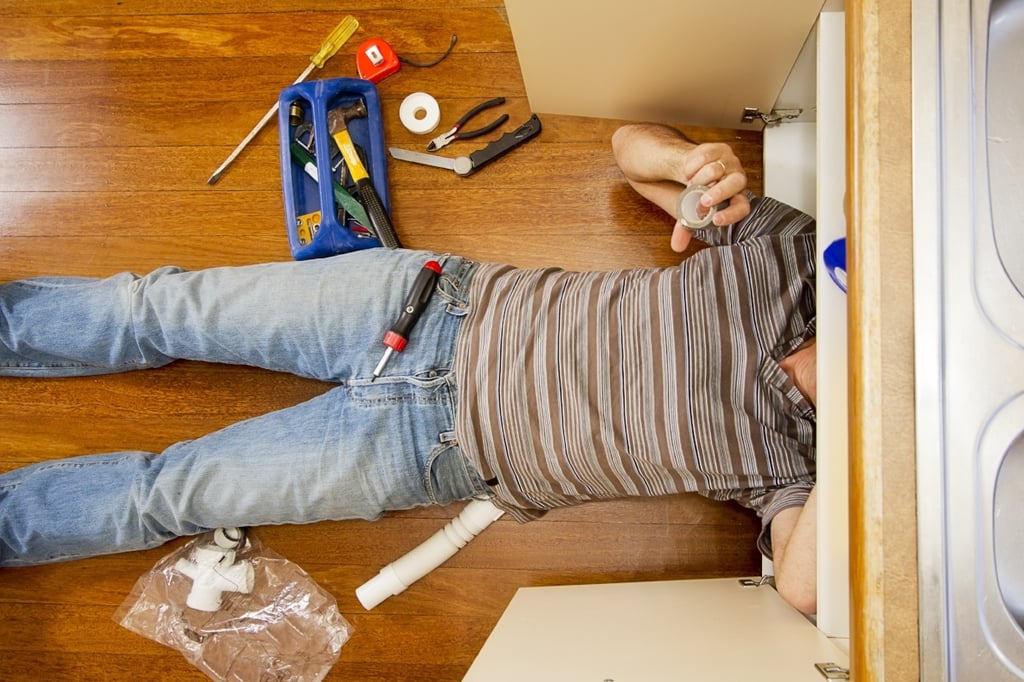 Do you have leaky pipes? Many Sacramento homes do, and with many houses reaching the grand old age of 100, yours may be one of them. Whether plumbing your entire home, adding an outdoor kitchen, or a new bathroom, you may have the skills necessary to run waterlines in your home and be able to complete your own do-it-yourself/DIY plumbing repair or installation.
Water lines can be made from copper, PVC, or even galvanized pipe in older homes — or a combination of different types of pipe. When performing plumbing repair in your home, PVC and galvanized pipe are easier to work with than copper. If you are replacing your water lines with copper, it is not a novice function; you will need to have soldering skills to successfully accomplish the task and to ensure that you produce watertight plumbing connections. California code also allows the use of plastic water lines, which are easier to install, and PVC has a life cycle that equals or exceeds that of metal water pipes.
Repairing Existing Pipes
If you are repairing your water lines, you may find that you need to connect different materials. How you connect different materials will depend on the particular pairing of the pipes. Copper, when connected to the galvanized pipe, can create an reaction when the two metals are in direct contact. This event can corrode the fittings they are joined with unless you use a dielectric union. This is simply a non-metallic washer that separates the pipes and keeps them from touching. You can join copper to PVC pipe by gluing a male threaded pipe adapter to the plastic and then screwing it to a copper female adapter of the same size that has been fitted to the copper water line.
Replacing All of Your Water Lines
If you are re-piping the entire house, you will need to run a Schedule 40 ¾-inch copper that passes by the hot water heater then branches off, sending water in the direction it needs to go and continues to the furthest point of use. Branch lines are typically ½-inch in diameter, and when installing copper or PVC waterlines, check with local building codes to be sure that you are using the properly sized pipe for your project.
Assembling Water Line Pipes
Whether you use copper or PVC, pipe sections will need to be cut to their necessary links. Once pipes are cut, they can be dry fit, which is what professional plumbers do before soldering the copper or gluing PVC. Dry fitting allows you to know whether you have the pipe cut to the proper length before permanently connecting the joints.
Sweating the Joints
Connecting copper pipe together requires it to be soldered together. Also called sweating the pipe and fitting it is being attached to, must be clean inside and out to assure a proper seal. After the pipe and fitting are clean, flux should be applied to both to ensure a good seal. The heat of your propane torch should be applied directly to the joint, heating it.
Once the metal is hot enough, it will pull the melted solder into the joint, forming a seal once it cools. When making plumbing repairs using solder, be sure the pipe is dry and clean. A simple procedure, soldering pipes is a relatively straightfoward task if you follow the right DIY plumbing tips and steps.
PEX Pipe Water Lines
Today's plumbing repair jobs have the benefit of the most advanced products to make running water lines easier than ever. Cross-linked polyethylene pipe (PEX) is one of these products; it is a third the cost of copper pipe and uses fewer connectors than conventional methods of plumbing repair and replacement.
The biggest drawback to its use is the cost of the specialized tools required for its installation. For other tips regarding trenchless waterline replacement, discover how modern plumbing techniques can make water line replacement, easier.
Plumbing Repair Around Your Home
Some plumbing repair projects are easy for homeowners. These DIY plumbing repair tips can help you to troubleshoot your water or sewer line issues and help you determine whether your plumbing job is something you can do or something you should leave to a professional plumber.
The professionals at Express Sewer & Drain can make plumbing repairs, run water lines, and install trenchless sewer lines in new or existing homes using the most advanced technology available. If running your water lines or repairing your plumbing is more of a project that you want to tackle alone, it is time to call in the professionals from Express Sewer & Drain.