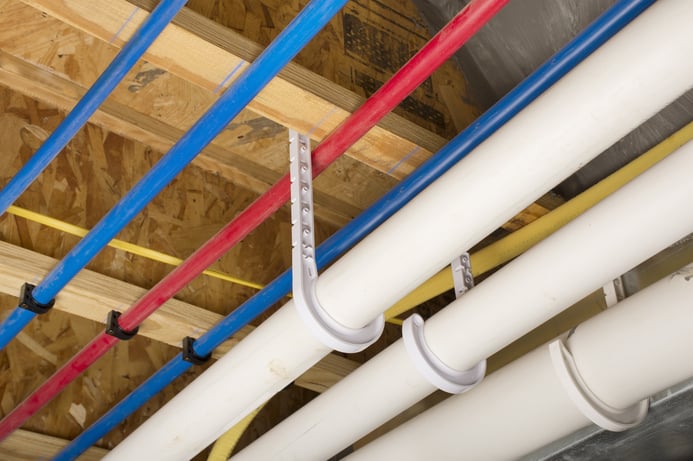 New installation and repair of plumbing pipes in your home or business can be costly. Many older homes have copper pipes, and it is the material of choice when considering plumbing pipe.
Yet, replacing or plumbing a new home with copper may not meet your budget. Cross-linked polyethylene pipe, more commonly known as PEX pipe, is about a third the cost of copper plumbing pipe. It's a more efficient method of re-piping your home or business.
More flexible than copper or PVC pipe, PEX pipe is installed in continuous runs. This offers the benefits of fewer seams and fittings than other piping methods. Installing PEX pipe is pretty straight forward and plumbing tips all start with the same advice. Plan your project and you will save time and wasted material. There are other plumbing tips that make PEX pipe installation, easier. The following should give you a good idea how the use of PEX pipe can make your next plumbing job easier. Let's get started.
Is PEX Pipe Affordable?
Although you can save up to a third over the cost of copper, with PEX pipe, the specialized tools needed for the installation add to the cost. This cost needs to be considered in the price of your plumbing pipe project. PEX pipe cannot be used for installation in direct sunlight, nor can it be connected directly to the water heater.
Even with these limitations, the savings can be considerable over copper and PVC pipe for indoor water supply lines. Plumbing tips indicate that you will need the following tools when installing PEX pipe:
Measuring tape
PEX pipe
PEX connectors
Crimp rings and a ring crimper
Crimp ring removal tool
Pipe hangers
Go/no-go gauge
PEX pipe is less expensive than other piping materials, but the tools required for its installation can make its use cost prohibitive for smaller jobs. Using these plumbing tips will help you determine if PEX is right for you and your project.
Plumbing Tips for Installing PEX Pipes
Now that you've gathered your tools and materials, you can get started:
1. Decide the location of the Pipe – If you pre-planned your project, you already have an idea of the feet of PEX pipe you will need and its location. Check locations and measure one last time before continuing. Cut each length of pipe and then place hangers. A hanger should be placed every 32-inches for a run of horizontally placed PEX pipe. For vertical installation, secure the pipe every four to six feet.
2. Measure your PEX pipe Twice – Yes, it is a less expensive plumbing pipe but if you cut a 20 foot run of PEX pipe, an inch or two short, you will have a problem. PEX pipe can expand and contract 1-inch for every 100-feet. Keep this in mind when measuring and add a little 'slack' in the line when installing PEX pipe.
3. Cut it once – Now that you've measured your pipe, you can cut it into proper lengths. One of the most important plumbing tips about PEX pipe installation is cutting the pipe. Cuts need to be as exact as possible and burr free. If the cut is not even and smooth, the PEX fitting may not seat properly, causing leakage.
4. Slide the Crimp Ring On – One plumbing tip recommends placing the crimp ring approximately two inches away from the end of the PEX pipe. This will give you enough space to place the fitting onto the end of the PEX pipe.
5. Time for the PEX Fitting – Place the PEX fitting with the shoulder touching the tube. Once in place, slide the crimp ring over the barbs of the PEX fitting and align the barbs.
6. Crimp the PEX Fitting - Open the jaws of the PEX crimping tool and align them so that they cover the crimp ring. Close the jaws of the PEX crimp tool firmly while holding the pipe steady. The fitting should now be sealed and can be checked with the Go/no-go gauge, which should fit partially onto the crimp ring. If it slips all the way down the pipe, you need to redo your connection.
7. Place the Pipe – Now that you have your connectors installed to the PEX pipe you can run the pipe, place it into its hangers, and connect it to the water system. Turn on the water, and check for leaks.
Flexible and easy to install, PEX pipe can be done by a do it yourself type person. A professional plumber will be glad give you an estimate on different plumbing pipe materials if you feel the task are beyond your abilities. If you need more advice about PEX pipe or other plumbing issues contact us today.
Topics: Trenchless Technology, Commercial Plumbing, Home Plumbing, DIY