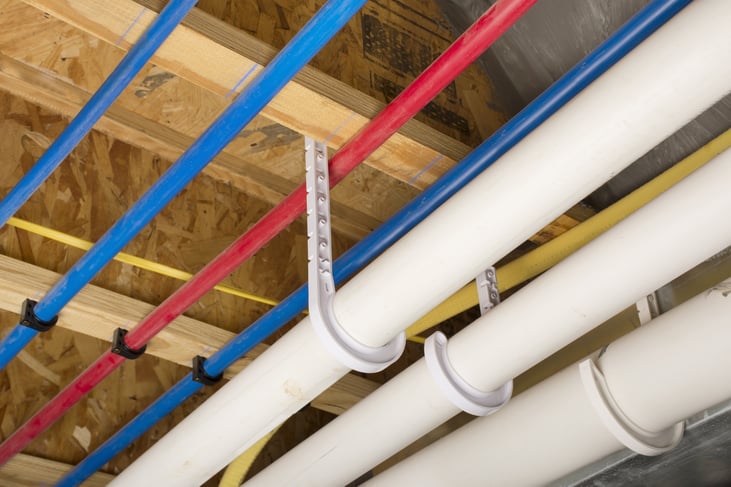 Professional repiping is a great option for homeowners and business owners who want to replace old and outdated pipes. The question now is, what do you repipe with? Today, it often comes down to choosing between copper and PEX piping. While you're likely familiar with copper, in this blog we'll look at what PEX piping is, its benefits, and provide some PEX piping installation tips.
Repiping Your Home or Business
While some plumbing problems can be repaired at little cost, if you're experiencing continual issues with your plumbing a complete repiping is going to be your better option in the long-run. Repiping is the process of replacing all existing water pipes and installing a new system throughout your home or building. A repipe is necessary when there have been serious pipe corrosion problems or slab leaks, which can occur in older properties with copper piping. Signs it's time to repipe include:
Significant changes in water pressure
Increasing water bill charges
Foul smelling or tasting water
Visible pipe corrosion
Frequent leaks/clogs
Discolored water
Pex vs Copper: Which is Right for Your Sacramento Home or Business
First off, what is PEX piping? PEX is crosslinked polyethylene tubing that has become very popular in recent years as an alternative to copper piping. It is specially designed with distinctive properties that make it an effective solution for radiant floor heating and plumbing systems.
While copper has some advantages that PEX can't claim (for example, copper is better able to fight bacterial growth and it is resistant to ultraviolet rays, making it well-suited to outdoor applications), copper is susceptible to high pH, acidic water. When copper reacts to this type of water, it can cause corrosion and deterioration to the inside of pipes. This can lead to unhealthy levels of copper in your water supply and pinhole leaks, which can damage your floor, walls, ceiling, carpeting, furniture, and more.
In fact, if you're in the Sacramento area, you may recall the pinhole leaks in the copper piping of Folsom, CA residents' homes caused by high pH levels (a class action lawsuit against the city, involving more than 2,300 reports of leaks, is still pending).
7 Advantages of Repiping with PEX
PEX piping offers many benefits. The decision to choose PEX will depend on what you value most (and your plumber's recommendation). Here are 7 advantages of PEX piping.
Highly durable (interior applications only; no outdoor pex piping)
Flexible to expand and contract with weather changes
Easier to install using fewer fittings
Corrosion resistant in high pH water areas
Lifespan of up to 75 years (versus 50 for copper)
Resistant to condensation
Quiet (no more clanging pipes!)
Of course, we haven't even talked about pricing. So, is PEX pipe affordable? Get this: Due to the ease of installation and the overall priciness of copper, you can save up to a third of the cost of repiping when using PEX piping. That's some serious savings!
Plumbing Tips for Installing PEX Pipes
Ready to take on some repiping as a DIY plumbing project? PEX piping installation will require the following tools:
Measuring tape
PEX pipe
PEX connectors
Crimp rings and a ring crimper
Crimp ring removal tool
Pipe hangers
Go/no-go gauge
Now that you've gathered your tools and materials, you can get started. PEX pipe is installed in continuous runs, so there are fewer seams and fittings than other piping methods including copper piping. Installing PEX pipe is pretty straight forward and plumbing tips all start with the same advice: Plan your project and you will save time and wasted material. The following should give you a good idea how the use of PEX pipe can make your next plumbing job easier. Let's get started.:
Decide the location of the pipe – If you pre-planned your project, you already have an idea of the feet of the PEX pipe you will need and its location. Check locations and measure one last time before continuing. Cut each length of pipe and then place hangers. A hanger should be placed every 32-inches for a run of horizontally placed PEX pipe. For vertical PEX piping installation, secure the pipe every four to six feet.
Measure your PEX pipe twice – Yes, it is a less expensive plumbing pipe but if you cut a 20 foot run of PEX pipe an inch or two short, you will have a problem. PEX pipe can expand and contract 1-inch for every 100-feet. Keep this in mind when measuring and add a little 'slack' in the line when installing PEX pipe.
Cut your PEX pipe once – Now that you've measured your pipe, you can cut it into proper lengths. One of the most important plumbing tips about PEX piping installation is cutting the pipe. Cuts need to be as exact as possible and burr free. If the cut is not even and smooth, the PEX fitting may not seat properly, causing leakage.
Slide the crimp ring on – Place the crimp ring approximately two inches away from the end of the PEX pipe. This will give you enough space to place the fitting onto the end of the PEX pipe.
Perform PEX pipe fitting – Place the PEX fitting with the shoulder touching the tube. Once in place, slide the crimp ring over the barbs of the PEX fitting and align the barbs.
Crimp the PEX fitting - Open the jaws of the PEX crimping tool and align them so that they cover the crimp ring. Close the jaws of the PEX crimp tool firmly while holding the pipe steady. The fitting should now be sealed and can be checked with the go/no-go gauge, which should fit partially onto the crimp ring. If it slips all the way down the pipe, you need to redo your connection.
Place the pipe – Now that you have your connectors installed to the PEX pipe you can run the pipe, place it into its hangers, and connect it to the water system. Turn on the water, and check for leaks.
Flexible and easy to install, PEX piping projects may be able to be completed by a skilled DIYer. However, doing it wrong on your own can create additional problems that will cost more money by the time you call in a plumber. So, if you're unsure of your DIY skills, contact the professionals at Express Sewer & Drain in Sacramento. We will be able to assess the situation, give you an estimate on different plumbing pipe materials including PEX vs copper piping, answer any questions, and more. Contact us for Sacramento plumbing solutions today.
Topics: Commercial Plumbing, Pipe Leaks and Repair, Home Plumbing, DIY