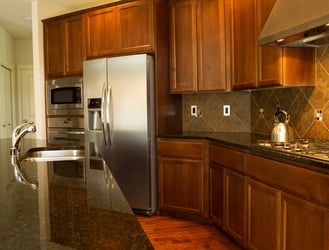 Plumbing and repairing kitchen island sinks can be a deal more challenging than working with standard kitchen sinks. For regular kitchen sinks, drain pipes and vents are hidden and run directly through the kitchen wall - overall, they're pretty easy to install; for island sinks, however, installing a vent or drain pipe takes a deal more work, Island vent pipes must essential contain their own vent pipes, without running off into the walls.
While installing or plumbing an island sink takes a bit more work than plumbing a standard sink, it's still something any able DIYer can do with the right tools and knowledge. In this blog, we outline how island plumbing systems work and what steps you should take to install such a system.
Step 1: What You'll Need to Install/Replace an Island Sink
As with our other step-by-step plumbing guides, the first step in venting or installing an island sink is making sure you have all the necessary tools to get the job done. This includes things like:
Horizontal PVC pipes

Cleanout tee fittings

An air admittance valve or curved vent pipe (either works for island sinks)
Before you install an island sink, you'll have to decide whether you want to use a an island vent or air admittance valve to vent the sink. The only big difference between the two options is that air valve systems do not require any outside venting, which is required by standard island vents. The downside to these valves is that they can be a pain to work with and may not be able to keep up with high flows or volumes of water.
Step 2a: Installing a Curved Island Vent
This step is for those installing a curved pipe vent in their island sink. For steps on installing an air admittance valve, skip over to Step 2b.
To install a standard island sink vent, first attach a horizontal pipe about 6" or so to the drain pipe, after the sink's drain trap (the "P" shaped curvature in the sink's pipe). At the other end of the PVC pipe, attach a cleanout tee fitting vertically. The cleanout tee will make it easy to unclog or snake your pipes should they become plugged. The downward opening will be for your water flow pipe, while the upward tee opening will serve as the air vent opening.
Install the water flow pipe as your normally would, and run the pipe beneath the kitchen floor. Attach a vertical pipe to the other end of the tee fitting as high as possible within your island cabinet, leaving enough space for a 180 degree curve. You can use either two 90 degree pipe sections or one 180 degree curve; either way, the key at this stage is to make sure the curve is as high as it can possibly be within your island cabinet.
The purpose of the curved vent pipe is to continuously provide air to the P-trap (or other style drain trap), which allows water to drain at a consistent speed. This venting technique eliminates the need for outside vents, such as those that conventional, wall-mounted sinks have.
Step 2b: Venting Your Sink With an Air Admittance Valve
This step details how to install and use an air admittance valve in your island sink, as well as best care practices.
Installing an air admittance valve is a bit more simple than installing a vent pipe. Like a vent pipe, you should install an air admittance valve as physically high as possible within an island cabinet, using a vertical cleanout tee fitting.
Attach a horizontal pipe to the sink's drain pipe after the drain trap, and install a cleanout tee at the other end. Run a downward water pipe as you would for a regular sink, and install an upwards pipe to the opposite end of the tee fitting. At the top of the vertical pipe, attach the admittance valve.
The valve, which operates via gravity, will open to let air in when water flowing through the drain pipe creates negative pressure. This capability eliminates the need for a vent pipe altogether (however, you'll still need to run a standard water pipe under your kitchen floor). By following these steps, you should have a properly vented and function island drain pipe.
Topics: Home Plumbing, DIY