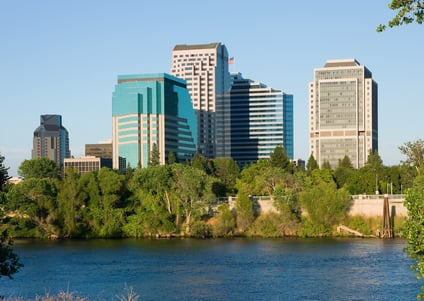 Of all the cities throughout California, it could be argued that Sacramento is taking the water shortage the hardest. While we've all been told time and time again to limit our consumption, recycle rinse water and take shorter showers, the harsh fact is that it's not doing enough to truly help the city of Sacramento conserve. Even fines for prohibited types of water consumption on non-watering days have not yielded anywhere near the city's ultimate goals.
Pair this fact with Sacramento's notoriously flat sewer system, which cannot gravitationally support a high water flow rate, and the city is faced with unique - and very troublesome - plumbing problem. If the water can't flow downwards (as is the case in Sacramento's sewer systems), it relies on sheer high volume to carry solids and other waste materials; due to conservation efforts, those volumes are nowhere to be found.
However, there is little that can be done about this problem; pipes that develop clogs or damage due to the low flow rate will just have to be replaced, as lowering consumption is a weightier goal than citywide pipe integrity.

In an effort to lower consumption rates themselves, the Sacramento Utilities department will be implementing a plan to upgrade all property water meters throughout the city. By 2018, all water connections are planned to be metered - and residents charged for the exact amount they consume, as opposed to the existing flat rate many now receive.
Water Bills and the Sacramento Water Meter Upgrade
By implementing these new water meter upgrades, it's the city's plan to incentivize lower water consumption; the more water you use in and around your home, there more you're going to have to pay for it. As almost half of Sacramento's residents pay a flat rate for their water (due to the old metering system that's being replaced), the sudden change has been met with some resistance.

Fortunately, those in the flat rate water meter system will be given a one-year grace period following the upgrade. As Sky Kalfus of NextCity.org states in her article on the upgrade:
"To ease the transition for customers who might struggle with a fee increase, those who have been paying non-metered rates will continue to pay a flat rate for another year. They'll also receive a monthly bill that includes information about how much they would be paying if they were on a usage-based system."
Silver Lining: Benefits of the Upgrade
Despite the price increase many Sacramento residents will undoubtedly face, the upgrade will inevitable push many to lower their consumption even further in the drought's wake. The new system's water bills will feature details about property water use that residents can use to limit activities that result in high consumption.
Additionally, the new meters will help counter the pipe damage caused by low water flow in the city sewer system. The upgraded meters will feature a special measurement for very low water flows - the type of flows that indicate a pipe leak in a home's sewer system.
While low consumption makes pipe leaks and similar problems inevitable, the new meters will make swiftly detecting and correcting such problems much easier. Once minor leaks are detected, they can be sealed with resin liners before damage becomes severe enough to warrant full pipe replacement.
The city of Sacramento and all of its residents have been put in a tough situation during the ongoing drought; the water meter upgrade is evidence of that. However, with better consumption practices and the city's incentivized water meter bill system, residents can do their part to curb the effects of the drought through the foreseeable future.
Topics: Plumbing in Sacramento